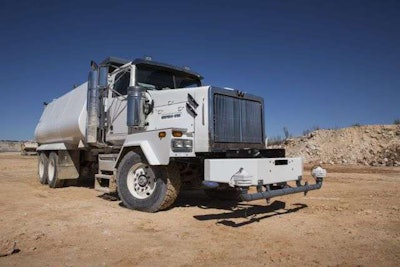 Western Star has partnered with Klein Products in the development of a 6,500-gallon water tank truck for the 4900XD.
The truck features a Klein K650 water tank – the company's largest water tank for Class 8 trucks – for road dust control operation for construction, quarry and mining applications.
"We're proud to team up with another premium brand to provide our mining and construction customers a highly efficient truck to tackle the harshest dust conditions," said John Tomlinson, heavy vocational sales manager, Western Star. "Together with Klein, we're committed to offering an affordable solution to reduce health and equipment hazards, and ultimately help our customers be more successful on the job site."
The truck features a low center of gravity and is available with rollover protection technology. Other features includes a custom-drilled 3.4 million RBM steel frame chassis, galvannealed steel cab and aluminum fenders. It can be ordered with the Detroit DD15, DD16 or DDC 60 Tier III engine.
The truck is also spec'd with outboard cab mounts and up to 20,000 lb. front and 70,000 lb. rear suspension.