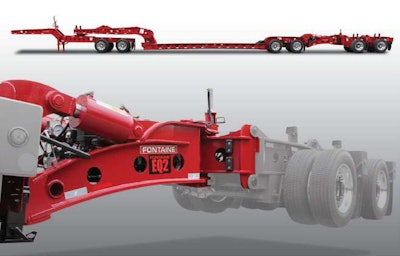 Fontaine Heavy-Haul is expanding its Magnitude 60 Class product line to include a two-axle bogie and the all-new EQ2 hydraulic equalizing spreader.
Magnitude 60 Class advanced technology low bed trailers are the lightest in their class handling 60 tons in just 12 feet, the company says. These new options deliver even greater hauling and their modular design means operators have the option to run in 2+2, 3+1 or 4-axles close coupled.
According to Fontaine, the EQ2 spreader is designed to be the most versatile, operator-friendly, feature-rich tandem hydraulic spreader in the industry. The EQ2 can easily convert from a 14 ft. 7 in. to 16 ft. 1 in. axle spread in a matter of minutes. Fontaine also claims it boasts the most versatile hydraulic removable gooseneck in the industry; it can be connected and disconnected in a matter of seconds.