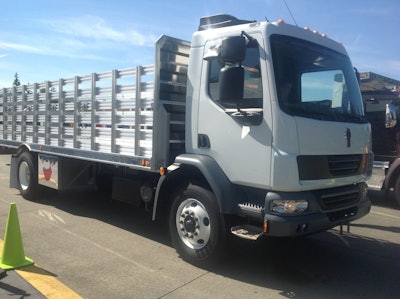 Kenworth is hoping its latest attempt to carve out a niche in the medium-duty cabover market will do something previous models never did – actually carve out a niche in the medium-duty cabover market.
The company's first K370 cabover was presented to Coca-Cola Refreshments in the truck maker's backyard – Bellevue, Wash. – in May of last year. Kenworth has been steadily chugging away at creating a foothold in the cabover segment ever since.
"We've had a couple of (cabover models) in the past, and they were good products," says Doug Powell, Kenworth's Medium-Duty Marketing Manager. "But this product is much better."
Powell says the trucks must first overcome an unjust stigma of being tough to drive with excessive cab noise. His plan to do that was launching an aggressive marketing campaign around the K270 and K370 models, and educating dealers about the benefits of the smaller and powerful trucks. And after 18 months in the market, it's paying off.
"We probably sold more of the new (model) in the first three months than we did of the last one in two or three years," Powell says. "We've sold more (cabover trucks) in the past six months than we sold in the 12 months before that."
Powell says Kenworth has made an effort to better train its dealer force on properly spec'ing trucks, which includes the cabover lines. Having that salesforce out actively pushing the product, he adds, is what has began to put the trucks on the road.
"The initiative is pretty simple," he says. "To train dealers and sales staff to spec whatever truck (customers) need with the best fitting engine. Not just a heavy truck with a big engine."
[youtube -ZDcRz1epVU nolink]
Focusing on what Powell called a "two-cab strategy" for its medium-duty sales, he says customers can opt for the popular aluminum huck-bolted cab on conventional models, or a 2.1-meter wide cab in its cabovers, accommodating up to three people.
Introduced in the fall of 2011 and rolled out the following spring, the Kenworth K270 Class 6 and Kenworth K370 Class 7 cabovers target urban delivery companies requiring a nimble truck with 18- to 26-foot van body size, stake bed, or roll-on/roll-off bed. And the K-Series trucks have found favor in some of the largest cities in the country, where a short truck with large hauling capacity is an enticing way to move freight while navigating crowded streets and tight corners.
"We've sold a ton of them on the eastern seaboard, the northern seaboard," Powell adds. "It's doing well where it should – in those markets where it really has the benefits."
"I t could be a 2,000 to 1,500 (unit) market size," Powell says of reasonable sales expectations. "That's still better, or double, what it was 18 months ago."