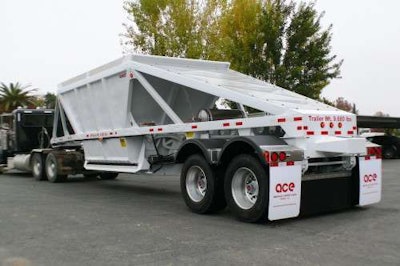 American Carrier Equipment (ACE) has introduced a new, ultra-high-tensile-strength steel bottom dump trailer, and is now delivering to customers in the western U.S.
The all-steel, tandem-axle, semi-bottom-dump trailer is the product of two years of research, development and field-testing program the company says was aimed at producing a tough, lightweight, super breed of trailer for severe-duty applications. The new trailer is 30 percent lighter, has 300 percent greater structural integrity and accommodates 12.5 percent greater load capacity than competitive offerings, ACE says.
"My new trailer virtually pays for itself and then some," Don Reeve, president of Reeve Trucking in Stockton, Calif., said. "Its lightweight design saves me fuel, and its 24-cubic-yard, 28-ton load capacity allows me to haul three extra cubic yards of material with each load, or the equivalent of a 'free' load over the course of an average seven-load day."
ACE says it employed advanced design techniques, including finite element analysis (FEA) testing, allowing its engineers to simulate a wide variety of dynamic stresses, from extreme heavy-haul loads to punishing off-road conditions and accelerated aging. In fact, the company says it was the first to taper its steel trailer's front and rear structural members, because FEA showed that tapering alleviates stress points throughout the trailer, creating a stronger framework and a lighter vehicle in the process.
Towing properties have also been enhanced, ACE says, through the addition of a unique, fully oscillating kingpin. Unlike the sleeve-type designs used in some trailer kingpins, the ACE bottom dump kingpin functions as a solid, finished bearing, helping to absorb and disperse the lateral stresses exerted on the trailer through pull and brake torque.
The new ACE bottom dump trailer has also been designed to provide superior discharge characteristics. The interior bed slope has been engineered to promote optimum load release flow when the gate is opened, promoting complete emptying and reducing the potential for load material – such as asphalt – to "bridge" or form into non-flowing masses that remain in the trailer bed.
The standard features of the new trailer include ultra-high-tensile-strength steel construction, fuel-saving super single tires and lightweight aluminum wheels. The trailer can also be fitted with risers that extend bed capacity.
American Carrier Equipment offers the new trailer in tandem-axle, tri-axle and quad-axle configurations.
Compared to an industry average gross vehicle weight (GVW) of between 11,800 lbs. and 14,000 lbs., ACE's new unit tips the scales at 9,680 lbs. GVW.
"We've built a better mousetrap that saves the end-user money by being lighter, stronger, more durable and higher functioning in the field," Rick Hutcheson, managing member, new business development for American Carrier Equipment, says.