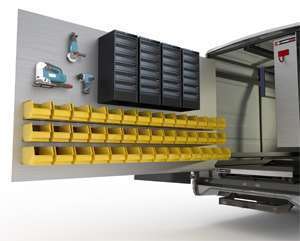 Anyone who's ever had to hunch over and hunt for a tool or part in the back of a van will appreciate CargoGlide's new Wall Gliding System.
Items stored on a fixed shelf, drawer or bin can be rolled 70 to 100 percent outside of a van.
Wall glides enable the back of any van to carry up to 1,500 pounds on the left wall and 1,500 pounds on the right wall.
The video below shows just how well the cargo area can be utilized with the Wall Gliding System along with other CargoGlide products, including the Roof Slide which can add a sliding light assembly and ladder rack.
The multi-patented Wall Gliding System will be available this summer.