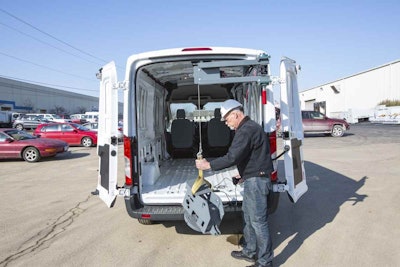 Venco Venturo recently launched a 1000-pound capacity crane for high-roof, Euro-style vans.
Currently prototyped for the Ford Transit 250 Mid-Roof, the all-new van crane from Venturo features a 6 ft. horizontally articulated jib boom to reach deep within the van with a capacity of 1,000 lbs. and 750 lbs at full extension.
The Venturo Van Crane allows safe and productive material handling without the need for a forklift or a heavy lift gate.
The Venturo Van crane utilizes a unique dual floor and ceiling mounted mast that integrates with the van structure itself to ensure maximum structural integrity. The horizontally articulated boom uses roller bearings that allow the operator to guide the load easily in and out of the van.
A unique rotation control feature utilizes a hand lever that operates a cable controlled multi-position rotation lock. This rotation lock enables the operator to lock the crane in various positions. This feature adds an additional safeguard for the operator as the load is being loaded and unloaded.
Standard features include a 12-volt DC, planetary gear, 1.3-hp winch; 12-ft. corded controller and a master disconnect switch kit. For additional vehicle stability, an inexpensive, manual crank down jackleg is available that installs quickly and easily into the vehicle's standard Class III receiver hitch.