Westport's WiNG Power System has two new California Air Resources Board (CARB) certifications: compressed natural gas (CNG) for use in the 2016 Ford Transit and autogas for the 2016 Ford F-150 pickup.
Westport is the only Ford Qualified Vehicle Modifier to meet CARB's stringent onboard diagnostic and emissions requirements for the Transit and the F-150.
Both of the Transit's Cargo Van and Passenger Wagon models of the dedicated CNG Transit 3.7-liter have been certified as Super Ultra Low Emission Vehicle in recognition of their emissions cutting abilities.
CARB certification applies to the Transit T-250 and T-350 cargo vans, and passenger wagons up to 10,000 gross vehicle weight, and qualifies these vehicles for high occupancy vehicle lane access in California, offering fleets improved productivity and cost savings.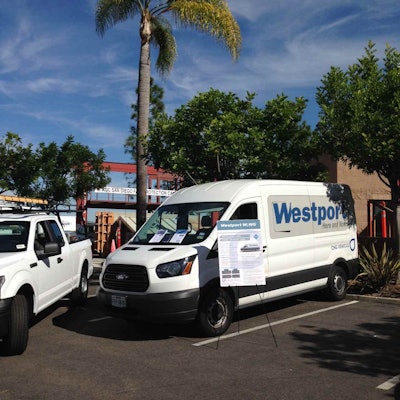 Westport also has pending CARB certification for the F-150 dedicated propane autogas.
"CARB is a very tough standard to meet but we now have a range of certified vehicles which are compliant in all 15 of the states that have adopted the CARB regulations," said Paul Shaffer, vice president and managing director of Westport Dallas.
"The Transit and F-150 are both the best sellers in their class and serve everyone from super shuttle drivers to tradesmen. CARB certification of these vehicles illustrates that owners can get the truck or van they want while also cutting emissions."
The F-150 features two in-bed tank package options, as well as an underbody option which provides greater flexibility and preserves bed space. Purchasers will need to be quick though as the order book for the 2016 F-150 closes on July 1.