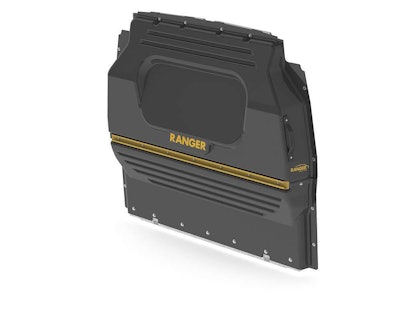 Ranger Design Inc. has launched a new Max View Clear Top Polycarbonate safety partition for work vans. These composite bulkhead partitions have been designed to provide a solid, secure barrier between the occupants of the van and the cargo, while increasing visibility and reducing blind spots, the company says.
Available next month for most popular cargo vans, these composite safety partitions are built of thermoformed ABS and polycarbonate and are engineered to resist maximum impact. Designed to be tighter fitting and rattle free, the new partition can increase cabin comfort by improving climate control and reducing noise.
New Max View Clear Top Polycarbonate Partition features a clear top makes the cab of a small van feel more spacious; increased visibility and reduced blind spots; contoured to allow full seat travel and maximum cargo floor space; tighter fit improves climate control; and rattle free design reduces noise and fatigue.