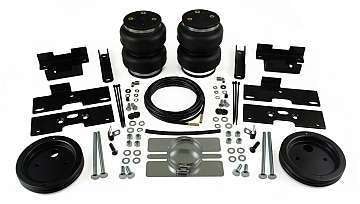 Air Lift Company has custom-engineered two air suspension options for the 2015 Ford Transit 150, 250, 350 and 350XLT.
Air Lift says its LoadLifter 5000 air spring kit works with the existing suspension to deliver up to 5,000 pounds of load-leveling capacity. Air adjustable to keep vehicles stable, level and comfortable whether loaded or unloaded, this kit is designed for the needs of occasional users who want improved handling while eliminating sag and reducing suspension wear. LoadLifter 5000 kits require no drilling into the frame and include roll plates to protect the air springs from sharp edges.
The LoadLifter 5000TM ULTIMATE air spring kit provides all the benefits of a LoadLifter 5000 kit with the addition of an internal jounce bumper for enhanced ride comfort and suspension protection.
For convenient air spring inflation and deflation, Air Lift offers wired, wireless and automatic on-board air compressor systems to provide one-touch or hands-free control of the air springs.