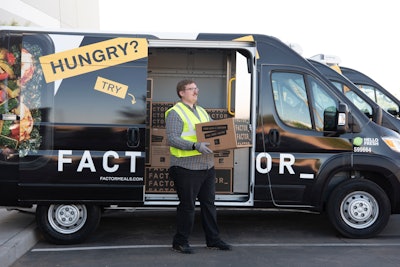 Among the lessons many shippers learned during the pandemic was how ceding control of delivery to third-party carriers offered little control over logistics when the proverbial "it" hit the fan.
Global food delivery company HelloFresh on Tuesday wrestled back some control of its own logistics fate, launching of its own final mile delivery fleet network in 19 major metropolitan areas, including Dallas, Phoenix, St. Louis, Washington D.C., Ft. Lauderdale and Chicago, among others. The company will now take a hybrid approach with home delivery, continuing to work with preferred carrier partners like UPS and FedEx in other locations across the U.S.
A spokesperson for Hello Fresh told CCJ Tuesday the overarching decision to get into the final mile space was to get closer to the customer, provide superior service and "get direct feedback from our customers on potential pain points within the delivery process."
With its fleet of nearly 500 vans, some equipped with reefer units, HelloFresh seeks to reduce transit time and newly established software provides the company with greater visibility around the customer experience, including having real-time communication between HelloFresh customers and drivers that enables quicker customer service support in times of need. By managing the entire logistics process and having full visibility of the life of the box, HelloFresh Vice President of U.S. Logistics Nunzio Di Savino, said the company can adapt quickly to address issues "while still ensuring customers receive on-time deliveries. And with the last mile solution, HelloFresh can swiftly respond to fluctuations in demand."
The delivery network optimizes driving routes to decrease the distance traveled from distribution center to doorstep, not only reducing HelloFresh's carbon footprint, but also allowing the company to reduce packaging such as insulation and ice packs (6-10% packaging weight reduction on each box) and food waste as well thanks to shorter transit times. A portion of the fleet includes electric vehicles, with the plan to electrify the last mile network over the next few years. The spokesperson told CCJ the company's goal is to 10% electric by the end of this year.