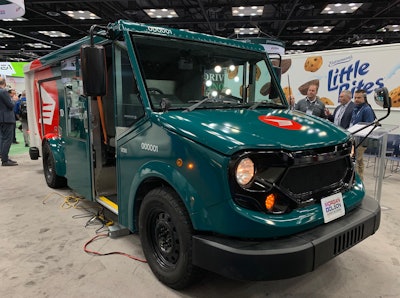 Hard Working Trucks
Morgan Olson revealed its new all-wheel-drive C250 delivery van today at the Work Truck Show which will be available in both internal combustion and all-electric versions.
Built on the Ford F-150 chassis, the all-electric version of the C250 will help Canada Post meet their 2040 zero-emission goal.
"It's such a beautiful truck. We're super excited," said Alexandre Brisson, vice-president of operations transformation at Canada Post. "It provides more space and comfort for delivery agents."
The current long-life vehicle (LLV) used by Canada Post for decades was built on the Chevy S-10 chassis with a Grumman all-aluminum body. Morgan Olson's vice president of sales and marketing, Larry Palmer, had a hand in designing that truck years ago.
"This C250 has special meaning to me," Palmer said. "In the 1980s, I was a member of the team that designed and delivered the LLV to Canada Post. Here we are almost forty years later, and our team at Morgan Olson listened and worked closely with Canada Post designing this new C250."
With roughly 14,000 LLVs running daily in the fleet, Brisson said half of those will be replaced by the all-electric C250 by 2030 and by 2040 all the trucks will be zero-emission.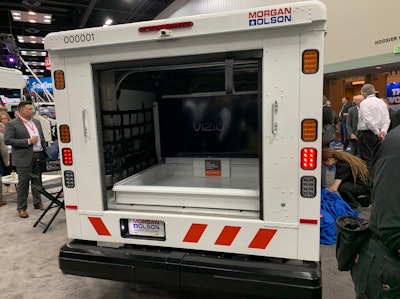 Lawson said the C250 has about two-and-a-half times as much storage space as the current LLV. Even with increased storage, Lawson said Canada Post does not anticipate downsizing its fleet given the current demand in parcel deliveries.
The electric C250 will be charged by AC overnight charging. Range in cold weather will not be an issue, Lawson said, since the average daily trip is 40 miles.
"They're typically seven-hour routes and then they come back in and they're there all night, so it's a perfect fit for electric," Lawson said.
The electric C250 is expected to roll out in late 2024. Canada Post has already been testing the ICE version of the C250 and has been enjoying the results according to Canada Post fleet management director Steve Clark.
"We have been deploying the ICE version of this vehicle to some of the most rural and remote parts of Canada and the feedback from drivers, mechanics, postmasters, and customers alike has been overwhelmingly positive," Clark said. "Everything from the functional development of the vehicle, including the overhung side mirrors that allow drivers to clear mailboxes on approach to the layout of the cab and operators console.
"Many drivers will drive all day long with the window down so the heated seat, heated mirrors and heated steering wheel is like winning the lottery and the temperature of the cab isn't nearly as important as it was years ago," Clark said.
Increased safety has also been a real plus.
"The safety of the car from its design of the layout of the cab glass to the front fender mounted cross-view mirror to rear visual camera and blindside camera activated by the signal are great safety advancements for delivery agents," Clark said.
However, since most injuries occur when drivers are entering and exiting the cargo area of the vehicle, Morgan and Canada Post worked together to come up with a solution that keeps drivers from having to repeatedly enter the vehicle to hunt for packages.
"This car has been developed to bring the product to the driver using a cargo management system with a configuration of slides, rollers and pull-out trays," Clark said.
John Poindexter founder and president of J.B. Poindexter & Co., parent company of Morgan Olson, said the C250 is being considered for the U.S. market.
"We very much expect to consider and to probably develop a commercial U.S. version of this vehicle in this weight category for smaller scale delivery," Poindexter said.