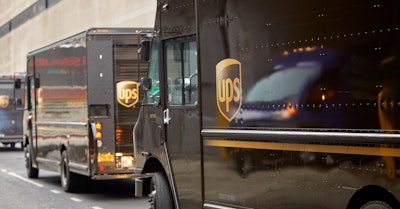 UPS
UPS announced an agreement with the Teamsters which will result in cooler driving conditions for drivers.
With union officials raising air conditioning as a top priority, UPS has agreed to spec smaller delivery vans with A/C starting in January of next year.
Delivery vans already in the fleet will be retrofitted with a fan within a month of contract ratification. A second fan will be installed in vehicles without air conditioning by June 1, 2024.
To help cut back on floor heat, an exhaust shield will be installed on new package vehicles and retrofitted on existing models within 18 months of contract ratification. UPS reports that these shields can reduce floor temperature by up to 17 degrees F.
Airflow will be improved throughout the vehicle by adding a forced-air induction system which will take fresh air from an air intake vent on the passenger side to the cargo bay. New vehicles will be spec'd with the system and existing vehicles will be retrofitted within 18 months of contract ratification.
Improvements to existing vehicles will be made to UPS' standard package vans which represent roughly 95% of their U.S. package delivery fleet and in remaining vehicles where designs permit.
Teamsters represent roughly 330,000 employees at UPS.