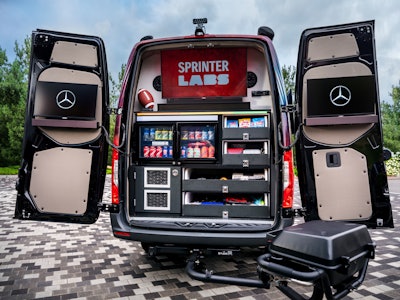 Football season is ESPN's time to shine, and this season its taking the show on the road.
ESPN became the first company co-collaborator with Sprinter Labs – a docuseries where a certified Mercedes-Benz eXpert Upfitter turns a blank canvas Sprinter into a customized one-of-a-kind dream machine. Multiple short video episodes will introduce the seasons' brand partnership and follow the build process from start to finish.
"Every Sprinter that rolls off the line is engineered and equipped for maximum purpose. But the true magic happens when it's configured, as each new owner designs creative ways to unlock the van's true potential," said Iain Forsyth, director of product management and marketing, Vans, "and that's where Sprinter Labs comes in. We wanted to showcase the various potentials for upfits, the detailed process that goes into the build outs and most of all the personality and character that's behind these customized vans."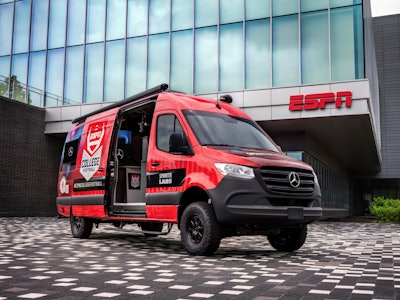 The network's media team dreamed up the vision to take their production studio on the road to connect with college football fans around the country. Mercedes-Benz USA, together with Matthews Specialty Vehicles drove the dream to reality by turning a 170'-inch wheel-base, all-wheel-drive cargo Sprinter van into a mobile podcast studio and college football tailgating machine.
Four short episodes follow the entire customization process featuring ESPN college football host/reporter Jen Lada, Forsyth and host, Faruq Tauheed.
ESPN brought their own vision to the table: while the technical and functional details for the podcast studio were the main focus, the opportunity for fan engagement features were equally as important to the team. Mercedes-Benz USA selected Matthews Specialty Vehicles to develop a van that would exceed their expectations: A high-end sound system with microphones, Wi-Fi equipment for broadcasting, acoustical paneling, swivel interview seating, LED interior lightening, a smart screen and a high-end camera system deliver "the best or nothing" mobile podcast studio that enables ESPN to to create content from any college campus during football season.
A branded wrap, exterior TV screens and sound systems, a sports ticker, underbody lighting, an awning along with a high-end grill and refrigerator as well as an integrated canteen system are on-board for fan engagement and guaranteed fun on the road. To top it off, a solar powered charging station ensures maximum efficiency.