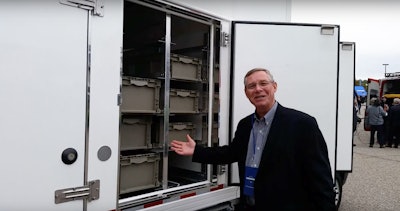 This week we're taking a closer look at some upfitted vans that were on display at Ford's recent Vandeomonium event in Dearborn, Mich.
First up is Morgan Corporation's new home delivery van for frozen, refrigerated and dry goods. Tim Stallings, director of bailment & OEMs at Morgan (shown above), gave us a tour of the 14-foot van which is built on the Transit 350HD. (See video below).
Efficient final mile food and beverage delivery comes easily thanks to Morgan's four compartments that keep products organized and accessible. The frozen section features a pullout shelf unit that holds up to 500 pounds. The refrigerated area has room for up to 32 totes and the last two compartments offer plenty of room for dry goods where optional fold-up or permanent shelving can come in handy.
"The neat thing about this whole product is that it's on the Transit chassis. It give you great payload capacity," Stallings explained. "The payload on this is 3,800 pounds. You can imagine the amount of food and catering tables and chairs that you can haul in this product."
Morgan's new home delivery van is expected to roll out in early 2019.
Like other businesses involved in the final mile segment, business has been brisk for Morgan. Earlier this year, the company announced plans for a new 175,000-square feet manufacturing facility in Connecticut.
Morgan specializes in the manufacture of Class 3 to Class 7 (GVW) box truck/straight truck bodies to serve the dry freight and refrigerated industries. Morgan produces truck bodies to accommodate cargo of every configuration — from parcel delivery to furniture movers and heavy-equipment hauling, insulated and refrigerated units, bottled gas transport, and flatbed/stake & platform bodies. In recent years, Morgan has also launched various truck bodies geared towards the landscape and contractor industries. To learn more, visit www.morgancorp.com.