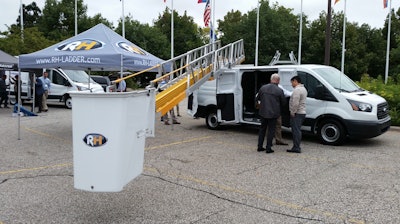 The line-up read like a Who's Who of the work truck industry: Knapheide, Ranger Design, Adrian Steel, Utilimaster, XL and so many others.
Thirty-seven upfitters in all put their vans on display today at Ford's Vandemonium event at the automaker's headquarters in Dearborn, Mich.
It was Ford's way of paying tribute to vocational and recreational insiders who continue to innovate and transform the nation's best-selling vans into impressive vehicles for both work and play.
Transits, Transit Connects and E-Series chassis cabs lined the parking lot in front of Ford World Headquarters for a few hours as reporters and industry elites roamed and met with upfitters from the U.S. and Canada.
Though sales continue to climb for recreational vans, market dominance clearly comes courtesy of the commercial sector where established vocations and emerging mobile businesses continue to make ample use of Ford's wide range of vehicle offerings.
"The reason we're able to serve such a broad spectrum of customers is because we have a very broad portfolio," explained Kumar Galhotra, group vice president and president of Ford North America. "We are the only manufacturer that actually has vehicles in every class from Class 1 to Class 7, starting with Transit Connect all the way up to F-750."
Galhotra and Ford general fleet marketing manager Tim Stoehr met with reporters shortly before the event kicked off in the early afternoon.
Both men had plenty to share concerning their company's dominance in the commercial vehicle segment, however a pie chart projected on the screen may have summed it best: for July 2018, Ford earned 44 percent of overall commercial vehicle sales in the U.S., easily beating out rivals Chevy, GMC, Freightliner and Ram which together claimed a 40 percent market share while the remaining 16 percent in the chart was relegated to 'others' in the space.
"Given the importance of this business it's also very clear that in order to maintain that kind of leadership we need to stay in touch with our customers to understand how their needs are evolving and how we need to evolve with that," Kumar said. "These people are experts. They are craftspeople. They are experts in their businesses. Their vehicles are tools for their business and that tool has to evolve. By example, by the end of 2019, we will be offering 4G modems in every one of our commercial vehicles. We will also be offering WiFi hotspots in our commercial vehicles."
Kumar also said that Ford's "very strong commercial vehicles solutions team" will continue to develop telematics services and will be expanding its driver assist technologies.
"These driver assist technologies not only make driving our vehicles safer, they also make the insurance costs for many of these fleets a lot lower," he said.
On the van front, full-size van sales are up 23 percent since Ford introduced Transit in June 2014, with Transit driving 78 percent of that growth. Ford Transit is also the best-selling cargo van in the world.
Though Stoehr said sales for 2018 may drop slightly from record commercial vehicles sales for 2017, he's undoubtedly optimistic that Ford will continue to dominate the segment.
"Are we at the top? Absolutely. Does it make us lazy? Absolutely not," he said. "If anything, our performance and dominance in this segment makes us even hungrier to push ourselves to increase uptime and improve efficiency. And we are invested heavily in maintaining that dominant vehicle platform."