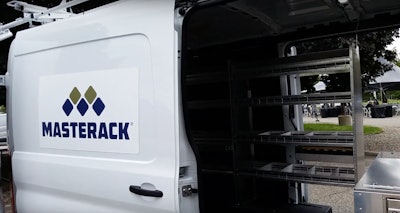 Masterack is next in line during this week's series of van upfits.
Jenn Voelker, Masterack's director of product engineering at, took us on recent tour of a Ford Transit medium-roof van that her company displayed at Ford's Vandemonium event in Dearborn, Mich.
The van featured the company's embossed aluminum shelving which is designed to hide fingerprints and scratches. Aluminum drawers extend about three-feet and have a weight capacity of up to 250 pounds.
Masterack offers its storage solutions in three materials: steel, aluminum (which is about 30 percent lighter than steel), and a composite, corrosion-resistant material called SmartSpace which is also lighter than steel. Masterack, based in Decatur, Ga., offers upfit solutions for all major OEMs.