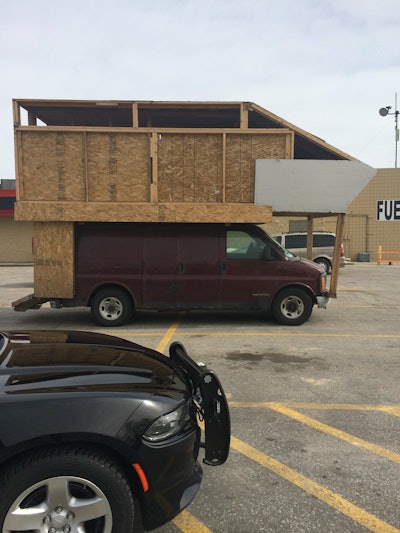 We've all seen homemade campers and equipment racks, but you've probably never seen anything like this.
Nebraska State Trooper Andy Allen recently snapped a picture of the van above and posted it on his office's Facebook page where it's gotten roughly 1,300 shares and plenty of comments. Turns out the driver works in construction and told the the trooper that he has access to a lot of scrap wood. No kidding?
Allen originally spotted the van on Interstate 80 near Grand Island last week and had planned on stopping it after seeing it lean over in some high winds, according to the Omaha World Herald.Instead, he followed the driver as he exited an off-ramp and caught up with him at a truck stop. He did not issue the man a ticket.
Others who saw the van struggling in heavy gusts were also concerned.
"I saw this Sunday on my way to Minnesota. Not sure how it stayed up the way the wind was blowing. He was going about 30mph and leaning terrible," Leigh Zodrow wrote in a comment posted on Nebraska State Patrol's Facebook page.
"That's the one Bret and I seen. It was about to blow over!!!!!," writes Lynette Weaver.
Self-described auto body man, Larry Ruffcorn, probably summed it up best in his comment: "Stick to your trade."