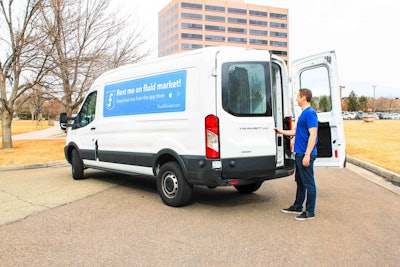 It's been said that necessity is the mother of invention, and for Fluid Market CEO James Eberhard, it's led to a successful truck rental business.
Eberhard explained that when his family needed to move from Virginia to Denver, he chose to buy a 26-foot box truck instead of renting one. His wife thought he was crazy, but the idea paid off because not long after arriving in Denver, Eberhard helped co-found Fluid Market, an app-based rental service where he rented the truck and rented it big. Within a 100 days his box truck had been rented 50 times.
"Not only did I not spend money on a moving company, but my move ended up being profitable," Eberhard said.
After launching in 2016, Fluid Market has continued to grow and serve vehicle renters and borrowers alike in Denver. And it's not just peer to peer. Businesses have also utilized the service to rent vehicles and equipment that otherwise would sit idle. With app growth at 1147 percent for 2017, Fluid Market today announced a national launch.
"We credit our users as the inspiration behind the truck-sharing marketplace, as we quickly identified the need for an affordable and user-friendly option specific to truck and utility vehicle rentals," Eberhard said. "Fluid Market has built an established presence here in Denver, and now is the right time to share what we've achieved with the rest of the country. The trucking industry has been dominated by the same few companies for decades, and we're eager to flip it on its head and offer our users the freedom to tap into extra income in the process. Think of us as a fusion of U-Haul and Airbnb."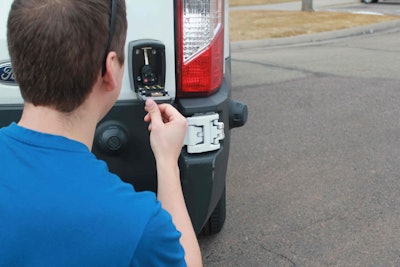 Pickups, cargo vans and box trucks are the most popular rentals. Trailers, tools and a mix of odds and ends are among other items up for rent. Rates are determined by renters, but as Eberhard explained, a customer success team will help renters determine competitive pricing and how to set up an ad. Some vehicles are rented by the hour, by the mile or by the day. Insurance is provided.
Renters must be at least 21 years old and pass a background check which includes no DUIs in the last three years and no moving violations in the past 12 months.
After booking a vehicle, borrowers receive instructions on accessing the rental. Most vehicles have a small lock box. Borrowers are given a code to unlock the box and access a key or key fob. This allows for around the clock vehicle rentals. Both before and after vehicle use, renters take photos of the odometer, gas gauge, any damage they find on the vehicle and upload those pictures to the Fluid Market App. The renter is required to replenish the fuel that was used and return the vehicle from where it was obtained.
The most popular rentals right now are pickups, cargo vans and box trucks. Trailers, including flatbeds, can also be rented. Restrictions apply to vehicles with a GVW of 26,000 pounds or more, motorcycles, RVs and those requiring a CDL.
To date, the most profitable rental has been a box truck which Eberhard said brought in $4,900 in a single month. Fluid keeps 20 percent of earnings.
"We've got people that started out with a cargo van and have grown that one cargo van into a small fleet of vehicles where they're making more than $10,000 a month just renting out pickup trucks, cargo vans and box trucks," Eberhard said.