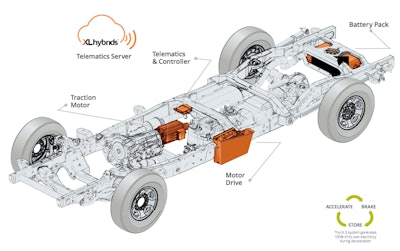 XL Hybrids Inc., which develops hybrid electric powertrain technology for commercial and municipal fleets, has received California Air Resources Board approval for aftermarket conversions of gasoline-powered 2012-2014 model year GM 2500 and 3500 vans, Chevrolet Express and GMC Savana vans into hybrid electric vehicles.
The XL Hybrids XL3 Hybrid Electric Drive System is on sale now in California for the first time.
"XL Hybrids is blazing a trail with the industry's first CARB aftermarket hybrid electric vehicle conversion EO," says Ed Lovelace, chief technology officer for XL Hybrids. "Our XL3 Hybrid System is especially effective for fleets with immediate commercial vehicle sustainability requirements, and for high mileage users because the price point makes financial sense for many California businesses and organizations – even without government incentives. We're proud that our simple, quick-install system helps combat ever-increasing fuel prices, while helping to meet sustainability goals."
The XL3 Hybrid Electric Drive System has been shown to increase miles driven per gallon by approximately 25 percent in real-world fleet vehicle driving, the company reports.
The XL3 is a regenerative braking system, which requires no special fueling stations, plug-ins or maintenance. Fleets can rapidly adopt the XL3 system because there is no driver training required, no new fueling infrastructure required, and the install takes less than one day, the company says, adding that driver productivity increases because drivers can spend more time on their routes, and less time at the pump.