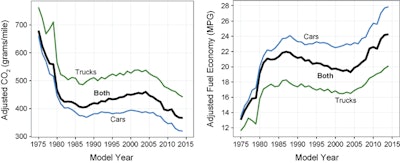 New vehicles achieved an all-time-high fuel economy in 2013, the Environmental Protection Agency reported Wednesday, coming in at an average of 24.1 miles per gallon – a 0.5 mpg increase over the previous year and an increase of nearly 5 mpg since 2004.
SUVs achieved the greatest improvement in all classes of new personal vehicles from the year before. Additionally, based on longer-term trends since MY 2004, truck SUVs (SUVs that are light trucks for purposes of compliance with GHG emissions and fuel economy standards) have the largest cumulative percentage fuel economy improvement of 27 percent, followed by both cars and car SUVs at 23 percent.
Overall fuel economy has now increased in eight of the last nine years, EPA notes. The average carbon dioxide emissions are also at a record low of 369 grams per mile in model year 2013.
EPA's annual "Light-Duty Automotive Technology, Carbon Dioxide Emissions, and Fuel Economy Trends: 1975 through 2014" report tracks average fuel economy of new cars, pickups and SUVs sold in the United States. The report also ranks automakers' achievements in model year 2013.
"Today's announcement points to the greatness of American ingenuity and the strength of our auto industry. We are thrilled to see that manufacturers continue to innovate and are bringing technologies to improve fuel economy online even faster than anticipated," says EPA Administrator Gina McCarthy. "Consumers now have many more choices when shopping for vehicles with higher fuel economy and lower emissions compared to just five years ago. These choices reflect both a more diverse range of technology packages on conventional gasoline vehicles as well as more advanced technology and alternative-fueled vehicles."
Light trucks, which include pickups, minivans/vans, and truck SUVs, accounted for 37 percent of all light-duty vehicle production in MY 2013. This represents a 1 percent increase relative to MY 2012.
Truck share impacts many important fleetwide metrics, of course, since light trucks on average have higher CO2 emissions, lower fuel economy, and higher weight, horsepower and footprint than cars., the EPA report adds.
The MY 2014 light truck market share is projected to increase by 2%, based on pre-model year projections by automakers.