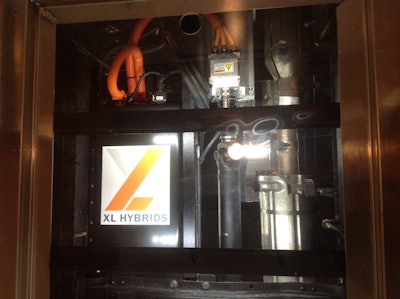 XL Hybrids Inc. has introduced its new XL3 Hybrid Electric Drive System for cutaway and strip chassis vehicles, extending its patent-pending technology to a new vehicle platform.
"Business agility is vital in today's competitive environment and the XL3 Hybrid Electric Drive System brings our success with class one and two vans to popular class three and four truck and shuttle bus configurations," said Tod Hynes, president and founder of XL Hybrids. "This opens up opportunities for fleets operating cutaway and strip chassis vans to get a 25 percent increase in miles driven per-gallon, reduce carbon dioxide emissions by 20 percent, and see an attractive return on their investment."
The "revolutionarily simple" XL3 Hybrid Electric Drive System is now available for commercial vehicles up to 14,500 GVW including van body, refrigerated, utility, landscaper, walk-in vans, and shuttle buses, the company says.
The XL Hybrids' charge-sustaining powertrain installs in just five hours, and has zero impact on fleet operations because there are no special plugs, charging or fueling infrastructure, driver training, or maintenance requirements. Additionally, the system does not effect the vehicle's OEM warranty.
XL Hybrids unveiled a Ford E-350 cutaway chassis with dry van body upfitted with the XL3 Hybrid Electric Drive system at the 2014 NTEA Work Truck Show earlier this month. The system is immediately available on the Ford E-350 cutaway and Ford E-450 cutaway, and is coming soon to the E-350 and E-450 stripped chassis and GMC 3500/4500 cutaway chassis.
In the video below, Chief Technology Officer Ed Lovelace explains how the system works, using a demonstration model with the hybrid electric drive viewable through the floor of the truck.
[youtube WJ2U3Ab23L4 nolink]
And here, HWT goes for a spin. Tom Williamson, a mechanical engineer for XL Hybrids, narrates.
[youtube 5ZNwROTQOfQ nolink]
In short, this isn't your wife's Prius: The gas engine is always running – there is no 'all-electric' operation. The hybrid power is used to assist acceleration and reduce fuel consumption. The only noticeable difference, other than the extra power, is a slightly stronger sense of deceleration whenthe driver takes his foot off the gas pedal as the system recharges the battery.
Named one of the 2014 World's 50 Most Innovative Companies – third Most Innovative in the Energy Sector – by Fast Company, XL Hybrids has also been recognized with an NTEA 2014 Green Award for innovation in improving work truck fuel utilization.
Coca-Cola, FedEx, and other mega-fleets across North America have adopted XL Hybrids' technology, with more than 800,000 customer miles logged so far, Jay Sandler, vice president of sales and marketing for XL Hybrids, told HWT.
"We're quickly changing the mindset of companies relying on fleet vehicles for their business success," said Sandler. "With our simple approach to hybrid electric conversions, commercial fleets can increase their miles driven-per gallon, reduce operating costs, and meet sustainability goals. The XL3 Hybrid Electric Drive System is not only eco-friendly, it lowers cost of ownership for truck, van and shuttle bus fleets."