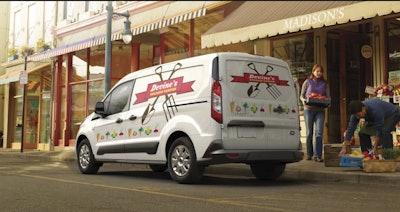 The all-new Ford Transit Connect is standing a little taller after being endorsed by Tall Clubs International as a vehicle that brings fit and comfort to the "vertically gifted."
The Transit Connect was recognized Monday as part of Paramount Tall Club's annual Chicago weekend. Paramount Tall Club is a Chicago-based member of Tall Clubs International.
"People of a certain stature have to make special considerations for head and leg room when out buying a new car," said Brian Comeno, president of Tall Clubs International. "Car shopping is very tough, and if you are concerned about fuel efficiency, smaller is sometimes the way to go.
"The Transit Connect provides both comfort and fuel efficiency, giving people who are vertically gifted important factors that go into purchasing a new vehicle."
The Transit Connect, which hit dealer showrooms this month in the United States, comes in two all-new models – a panel-side cargo van; and a wagon, a spacious and fuel-efficient people mover, Ford says. When equipped with the 1.6-liter EcoBoost engine the Transit Connect Wagon is rated at 29 mpg highway.
The wagon and cargo van have 46.8 inches of headroom in the first row and 45.1 inches in the second row. The long wheelbase wagon has 41.3 inches in the third row.
For leg room, the Transit Connect has 41.5 inches in the first row and 37.6 inches in the second row.
Aside from space, the Transit Connect Wagon takes adaptability to a new level with fold-flat second- and third-row seating, a 1,200-pound-plus payload and a rear liftgate.
The wagon also comes with the choice between two four-cylinder engines – a 2.5-liter four-cylinder engine and an optional 1.6-liter EcoBoost. For more information about Ford Transit Connect Wagon, or the cargo van, including pricing, visit the Ford website.