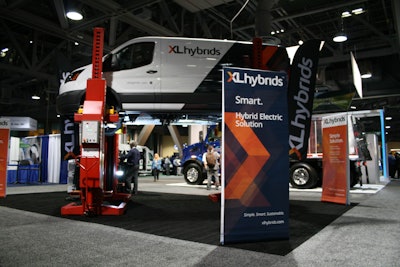 For those that get bored with kicking tires, XL Hybrids went a step further and used eye-catching portable lifts to elevate one of their hybrid Ford Transit Cargo vans so that ACT Expo attendees this past week could get a better sense for how easy it is to perform an XL Hybrids conversion.
The portable Rotary Mach 4 Mobile Column Hydraulic lifts easily elevated the upfitted Ford Transit. Sal Macias, a sales representative from Peterson Hydraulics in nearby Gardena, explained that shops can move the Mach 4 lifts outdoors to lift gaseous vehicles when proper ventilation is not available inside a garage.
This week inside the Long Beach Convention Center, the U.S. made lifts provided close-up views of the three main components XL Hybrids uses to boost fuel efficiency up to 25 percent: a lithium-ion battery pack mounted between the frame rails, an electric motor mounted on the back of the transmission and an inverter which is secured to the frame rail.
"The XL Hybrids technologies are designed to be simple, easy to install and only require minimal modifications to an OEM vehicle," Clay Siegert, XL Hybrids co-founder and chief operating officer, explains in a company video.
"The net result for a fleet over the course of a drive cycle could be a 25 percent mpg boost for the vehicle."
Fuel-efficiency gains like that, coupled with an easy upfit or retrofit, are attracting plenty of attention.
XL Hybrids announced yesterday that vehicles using their hybrid technology will be collectively racking up 25 million miles this month. Not bad for three easy-to-install components.
"The number of fleet vehicles using XL Hybrids' technology is increasing significantly as we work with major fleets, including The Coca-Cola Company, AmeriPride Service and The City of Boston, and gain new clients, such as BMC Stock and Yale University," Siegert, an MIT graduate states in the company's press release. "These additional fleet customers are exponentially increasing the number of customer road miles driven with XL Hybrids electric drive technology."
XL Hybrid retrofits and upfits are available throughout the U.S. and Canada. It takes about six hours to install the system which comes with a three-year, 75,000-mile warranty. The OEM warranty is not effected.
The system, which adds between 350 to 385 pounds depending on the application, is available for the following vehicles:
2015-2016 Ford Transit Cargo and Passenger Vans with 3.5 and 3.7-liter engines
2010-2016 Chevy Express and Savana 2500/3500 vans with 4.8 and 6.0-liter engines
2011-2014 Ford E-150/250/350 vans with 4.6 and 5.4-liter engines;
2011-2016 Ford E-350/450 Cutaways and Stripped Chassis with 5.4 and 6.8-liter engines
2011-2016 Ford F59 Super Duty Commercial Stripped Chassis with a 6.8-liter engine
2013-2016 Reach Van from Isuzu and Utilimaster with 3.0-liter diesel engine
2016 GM 3500/4500 Cutaways with 4.8-liter and 6.0-liter engines
Fleets operating in Maryland will save 50 percent on XL Hybrids for GM and Ford passenger and cargo vans, Ford shuttles, box trucks, utility bodies and walk-in vans. The offer from Maryland Natural Freedom Fleet Voucher Program expires May 8. XL Hybrids will handle the paperwork. Financing is available.