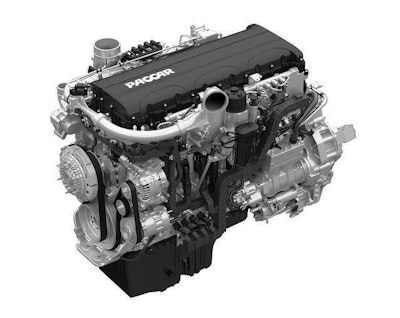 Paccar's 11-liter engine is now available for order, the company announced Friday.
Available in the Kenworth T880, T680, T800 with FEPTO, and W900S and Peterbilt Models 579 and 567, the MX-11 is designed to produce up to 430 hp and 1,550 lb-ft of torque.
Paccar says their 10.8-liter engine is 400 pounds lighter than 13-liter engines, while providing enhanced payload capacity and fuel economy and is available with a full array of manual, automated manual and automatic transmissions.
"The Paccar MX-11 … has ample low-end power for applications requiring less than 450 horsepower, such as regional haul, tanker, bulk haul, construction and refuse," says Jason Skoog, Kenworth assistant general manager for sales and marketing.
MX-11 features a six-cylinder, 24-valve design and dual overhead camshafts along with high-pressure common rail fuel injection. The engine block is constructed from compact graphite iron with vertical ribs to maximize strength while reducing noise levels.
Paccar has installed more than 10,000 MX-11 engines in DAF trucks in the past two years and has logged more than 2.5 million miles of field testing in North America and over 250 million miles accumulated in production engines in operation in Europe.