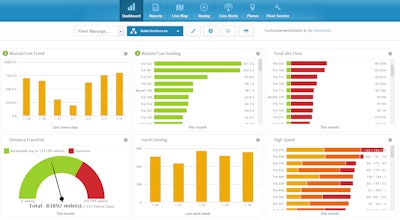 A new industry-first report outlines the economic impact of telematics adoption by commercial fleets and provides key benchmarks for fleet operators in various industries, as well as quantifiable benefits of business intelligence-driven fleet management.
Fleetmatics Group PLC, which provides mobile workforce solutions for small and mid-sized businesses, on Wednesday issued the first edition of its FleetBeat Report, a deep dive analysis of tens of billions of data points extracted from thousands of commercial fleets over a five-year timespan.
"The financial and environmental benefits outlined in FleetBeat are profound," says Jim Travers, Fleetmatics CEO and chairman of the board. "The report shows there is a real opportunity for organizations of all sizes to boost their bottom line and promote significant growth through the adoption of fleet management solutions. On a larger scale, this drives economic improvement across the business landscape."
As outlined in FleetBeat, 12.6 percent of all commercial vehicles in the U.S. and Canada currently have telematics units on board to aid optimization. Noting that percentage, the total estimated economic impact of commercial fleet telematics – assuming everyone using this type of technology had the same results as Fleetmatics' optimized customers – breaks down this way:
Decrease in fuel consumption (gallons per year): 573 million
Total fuel savings: $2.2 billion
Decrease in CO2 emissions (tons per year): 5 million
Decrease in payroll hours per year: 1.3 billion
Total cost savings due to decrease in payroll hours: $34.9 billion
Fleet Productivity and Utilization Trends
In addition to the total economic impact findings, FleetBeat examines data on service call and delivery performance, as well as reporting on service radius benchmarks for 12 fleet-driven vertical industries like electrical, landscaping and plumbing.
Notably, in regard to service calls per day across industries, the study showed that Fleetmatics customers experienced a greater than 13 percent increase in stops after implementing the fleet management solution.
The report also showed that fleet utilization increased by 15 percent, when comparing the count of active unique vehicles in users' fleets. This number shows that fleets optimized by fleet management software are able to increase the number of service vehicles that service the business' customers, Fleetmatics says.
Cost Efficiencies Reporting
FleetBeat also takes a deep dive examination of payroll and fuel savings derived from having an optimized fleet.
In regard to payroll, the report showed the standard workday for optimized fleets decreases 20 percent on average, from 10.6 hours to 8.5 hours, across verticals studies.
Regarding fuel savings, the FleetBeat study concludes that when engine idle and engine driving savings are combined, the estimated average savings is $45 per vehicle per month, which equates to a total estimated cost savings of $540 per vehicle per year.
The savings almost double among fleets that have focused idling elimination programs in place. Fuel savings represent one of many avenues by which significant savings can be achieved with the use of commercial telematics.
When added to the savings derived from reduced payroll hours, increased fleet productivity and utilization, and minimized harsh driving and idling – for example – the monetary savings can far exceed $45 per vehicle, according to Fleetmatics.
Idling Trends in Review
Finally, the report looks at seasonal, regional and vertical idling trends, enabling fleet owners to gauge whether their team is spending too much time idling.
On average across verticals studied, a 12 percent decrease in idling minutes (per vehicle per day) was achieved by crews that utilize fleet management technology. FleetBeat brings to light that, though it may not be top of mind, idling is one of the largest contributors to wasted fuel and, therefore, fruitless fuel costs.
"FleetBeat represents the first time that this level of detail and real world analysis has been presented regarding the broad economic and environmental impact of telematics adoption by commercial fleets," says Peter Mitchell, CTO for Fleetmatics. "With the fleet management market expected to grow from $10.91 billion in 2013 to $30.45 billion by 2018, we hope the report will serve as a resource to show business owners the immense impact this technology can have on their bottom line."
Register here to receive the full report.