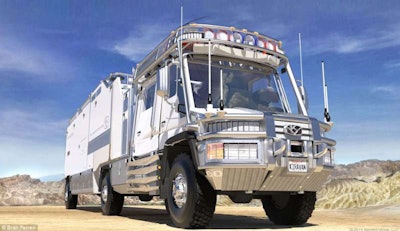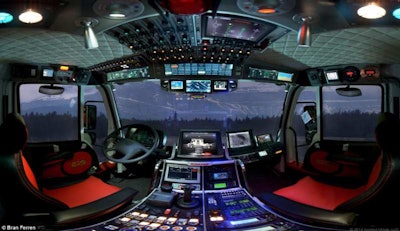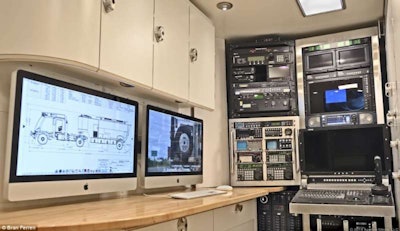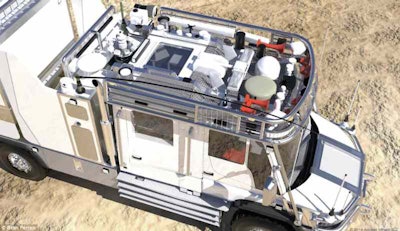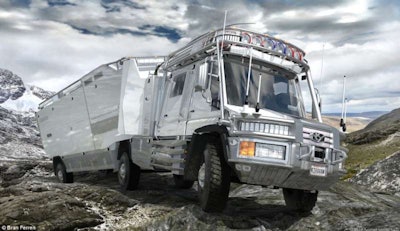 With the Fun Trucks Friday crack research staff on assignment in Silicon Valley, this week's edition takes a look at some cutting-edge hard-working truck tech, coming sooner (or later) to a vehicle of your own.
Are we there yet, Daddy? Conceived as the ultimate adventure vehicle for his pre-school daughter, Applied Minds designer and tech guru Bran Ferren has spent four years and multiple millions of dollars building the KiraVan.
The 25-ton, Unimog-based rig comes with six-wheel drive, suitable for taking a curious kid in any direction she wants to go, roads or no. And no need to worry about finding a place to fill up in the wilderness: the Earthcraft is designed to travel 2,000 miles without the need to resupply.
And it's built to travel safely and comfortably. Along with the basics, such as a premium appliance equipped kitchen, a bedroom and a bath, the added touches include the Kevlar reinforced tires, 22 cameras to keep an eye on the immediate surroundings and a drone to scout ahead, multiple communications systems and a motorcycle for side jaunts.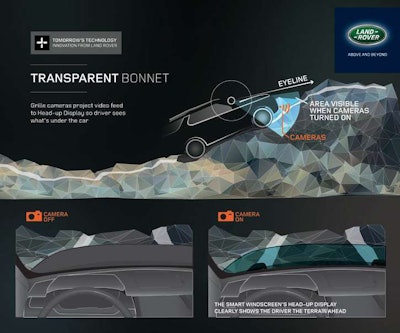 Now you see it, now you don't. Anyone who's ever driven off-road is familiar with that uncertain feeling, especially coming to the top of a steep incline: You're pretty sure there's going to be something on the other side of that ridge, but you really can't know for sure until the vehicle noses over – and that could well be too late.
The engineers at Land Rover have a solution: At the touch of a button, the driver can make the front-end disappear. Virtually, that is.
Cameras located at the front of the vehicle capture data and are used to feed a Heads-Up Display across the bottom of the windshield, effectively creating a 'see-through' view of the terrain through the hood and engine bay. The technology, named "Transparent Hood" by Land Rover, shows how the company continues to innovate with new off-road technology.
"As our vehicles become more capable and offer increasing autonomy off-road, we will ensure the driver has the confidence to progress over any terrain," says Dr. Wolfgang Epple, director of research and technology for Jaguar Land Rover. "We are developing new technologies including the Transparent Hood to give drivers an augmented view of reality to help them tackle anything from the toughest off-road route to the tight confines of urban parking."
The Discovery Vision Concept car is a design and technology showcase which was unveiled this week at the New York International Auto Show.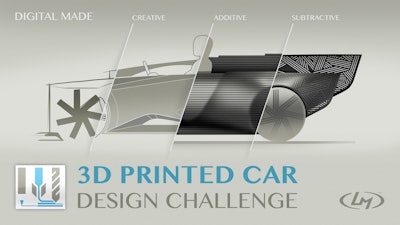 One word: Plastics. Local Motors Inc. announced this week the launch of the 3D Printed Car Design Challenge "to inform and influence the design" of the vehicle that will be manufactured at IMTS – The International Manufacturing Technology Show 2014 in Chicago this September.
"Historically, producing a new vehicle from a new design has represented a significant investment in tooling and a large commitment in time to integrate multiple structures and components," said Jay Rogers, Local Motors CEO. "This effort to design and deliver the first co-created vehicle using this digital technology and manufacturing process could change the process and speed in which vehicles are designed and built."
Launched two months after Local Motors announced partnerships with the US Department of Energy's Oak Ridge National Laboratory and The Association For Manufacturing Technology, the 3D Printed Car Design Challenge "will seek to define innovations in the methodology associated with incorporating additive and subtractive manufacturing methods in vehicle design and development."
This effort will also include the engagement of ORNL partner Cincinnati Inc. and their innovative Big Area Additive Manufacturing machine. This BAAM machine pioneers the use of large-scale 3D printing technology, and is focused on packaging a complete digital manufacturing process in the first machine of its kind.
"This vehicle may well be the coolest vehicle on the planet, at least to those of us in manufacturing technology," said Rick Neff, of Cincinnati Inc. "I am excited to help judge the design competition for the 3-D Printed Vehicle that will influence how we manufacture many things."