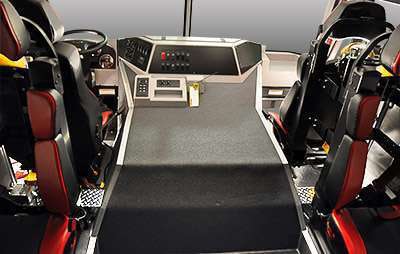 Spartan Chassis on Wednesday introduced the new cab configuration available on its Gladiator cab/chassis at the Fire Department Instructors Conference (FDIC) in Indianapolis.
The unit features an innovative interior design that has been re-engineered for comfort and space, next generation seats, along with revolutionary quiet cab technology.
"The re-engineered cab configuration reinforces Spartan's leadership in the Emergency Response cab/chassis market," says Michael Bowman, vice president of sales, Emergency Response Chassis. "The company is excited to debut this offering which provides unmatched occupant comfort combined with the industry's leading protection system, the Spartan Advanced Protection System."
Firefighters have again asked Spartan to provide additional comfort in both the driver and the officer positions, the company says.
Without increasing the 99-inch width of the Company's Gladiator cab/chassis, more hip room has now been made available providing improved comfort for all individuals equipped in their turnout gear.
Comfort
Improved weight distribution
Greater occupant comfort
Improved styling
Rigid backed SCBA parade panel available
An increase in comfort when utilizing the HVAC system
Improved seat cushion bolster and lumbar support
Ergonomic enhancements

Elastomer vibration control (50% vibration reduction)
Dual density foam – greater comfort and increased cushion durability
Safety
Improved shoulder harness accessibility
E-Z Release SCBA system
Seat material which reduces blood born pathogen exposure
Approximately 2.5dB, or 45%, reduction in sound energy levels within the cab when traveling at a speed of 45 mph with the windows up
A safer environment inside the cab for occupants en route to a call
Greater ability to communicate effectively inside the cab without the need of an intercom
Space Utilization
Volume increase of 5,827 cubic inches (the equivalent of 118 12oz cans)
10% increase in hip room on driver's side of tunnel
11% increase in hip room on officer's side door to side of tunnel
6.6% reduction in tunnel height
3.8% increase in leg room for the two center forward facing crew members
22″ base seat cushion and back cushion