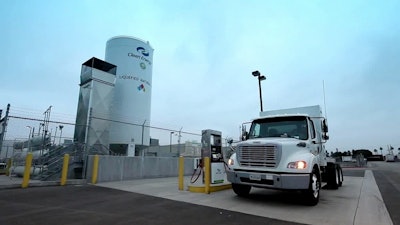 Though natural gas hasn't generated much buzz at this spring's round of truck shows, early adopters in the industry continue to move forward where the diesel alternative makes operational sense. Both Ryder System Inc. and Clean Energy Fuels Corp. have noted significant achievements this week, and ACT Research Co. offers a tool for doing the math on the potential cost savings afforded by running natural gas trucks.
Ryder hits 20,000,000 miles
Ryder reports that its fleet of more than 500 natural gas vehicles has surpassed 20 million miles.
The fleet consists of liquefied natural gas and compressed natural gas tractors serving over 40 customer operations in California, New York, Texas, Arizona, Michigan, Utah, Georgia, and Louisiana.
Since deploying its natural gas vehicle program in 2011, Ryder has replaced approximately 3.1 million gallons of diesel fuel with domestically produced natural gas and reduced emissions by more than 559,000 metric tons of carbon dioxide equivalent emissions, according to the company.
"This latest milestone reinforces Ryder's continued leadership in commercial natural gas vehicle solutions and demonstrates our ongoing commitment to assist companies who seek alternatives to reduce fuel costs, carbon output, and meet their environmental objectives," says Ryder Chairman and CEO Robert Sanchez. "Our business model puts us in a unique position to enable more fleets to convert to natural gas and realize the benefits of this cost-effective, clean, and domestic energy source."
Customers can tap into Ryder's knowledge of natural gas and rapidly evolving alternative fuels maintenance network, along with its trained and experienced technicians, to ensure the safe operation, maintenance, and fueling of natural gas vehicles.
Ryder's alternative fuels sales team can also help businesses determine which vehicle configurations work best for their specific applications.
Golden Eagle Distributors Inc., the exclusive distributor of Anheuser-Busch products across most of Arizona, is one such business that has realized the environmental and cost savings benefits of a natural gas vehicle fleet.
The company worked with Ryder to convert their 23-vehicle delivery fleet to CNG in 2011.
"Ryder has been our strategic transportation partner for 40 years and has helped us find an alternative fuel that is not only cleaner and better for the environment, but that also enabled us to achieve overall transportation cost savings," says Golden Eagle Distributors' Senior VP Business Operations Bill Osteen. "After four decades of working with Ryder as our transportation partner, we knew we could trust their team to select and maintain the right kind of CNG vehicles to meet the needs of our drivers and the loads we carry daily."
Ryder touts its ability to leverage knowledge of emerging fleet technologies and government rebates and tax incentive programs to help reduce natural gas vehicle costs for customers and offer more competitive lease and rental rates in those areas that offer incentives.
In addition, Ryder's "Flex-to-Green Lease" solution is designed to ease the transition to a greener fleet. Businesses may opt to start out with a diesel-powered vehicle and then have the option to convert to a natural gas vehicle at any time following the first full year of the lease.
Ryder's natural gas vehicle offering also includes a selection of light and medium duty CNG vehicles, the first of their kind in North America available for lease or rent.
The CNG trucks range in gross vehicle weight from 16,000 to 33,000 pounds and are ideal for metro/city delivery applications.
And Ryder has opened a pair of natural gas fueling stations in its network to serve both the general public and Ryder lease and rental customers.
"We are proud to make investments in alternative fuel solutions, which will further support the wider adoption of natural gas vehicles for commercial transportation," says Sanchez. "We pride ourselves on listening to the needs of the marketplace and developing the solutions that will help drive the industry forward."
Clean Energy adds links to ANGH
Clean Energy announced this week that fueling has begun at its Amarillo, Texas, and Oklahoma City America's Natural Gas Highway stations to serve UPS' growing heavy-duty LNG truck fleet.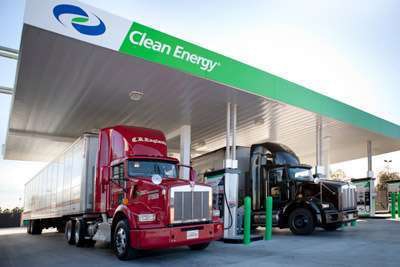 UPS has deployed six heavy-duty LNG trucks which are fueling at Clean Energy's newly-opened Oklahoma City station; an additional four trucks are expected to begin fueling at this station within weeks. These tractors are forecasted to consume approximately 300,000 DGEs of LNG per year, which represents a greenhouse gas reduction of approximately 518 metric tons per year, according to the company.
Clean Energy's Amarillo station has also opened and is fueling 10 LNG trucks under its previously announced bulk fueling agreement with UPS.
Additional truck fueling agreements were also announced for fleets fueling across Clean Energy's nationwide network from Los Angeles to Jacksonville, Fla.
Carrier EJ Madison is one trucking company that's taking advantage, deploying a fleet of 20 long-haul dual-fuel LNG trucks on America's Natural Gas Highway. The fleet currently has traveled over 500,000 miles.
EJ Madison intends to expand this fleet with an additional 30 dual-fuel LNG/diesel trucks in the coming months. El Paso-based Clean Fuel Technologies LLC is handling all conversions.
"The initial twenty LNG dual-fuel conversions have proven to be a solid business move which is why we're more than doubling the size of this fleet to continue to provide superior service to our customers at a competitive cost," said John Warren, president of EJ Madison. "I believe the future of long-haul trucking is here, it's cleaner and it's promising."
Opening stations and adding incremental volume to existing stations as shown by today's announcements are top priorities for our team. UPS continues to confirm its leadership in adopting cleaner, alternative fuels. New entrants such as EJ Madison are vital in the overall adoption of natural gas because of their coast-to-coast routes and nationwide network.
ACT Research adds up savings
For those fleet executives still doing the math on natural gas vehicles, ACT Research Co. has released on-line fuel payback calculators that can help companies make the best fuel choices for their applications.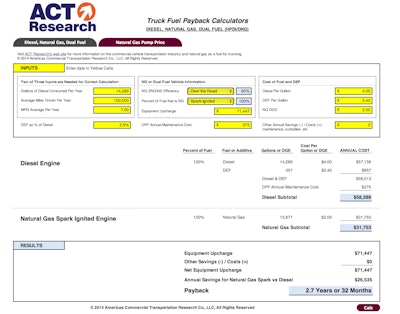 The calculators, which are available at no charge at ACT's website, allow fleets to easily calculate the Diesel Gallon Equivalent of CNG or LNG at the pump as the commodity cost of natural gas changes.
"We believe that the adoption of natural gas fuel for heavy-duty trucks will ultimately put real pressure on freight rates as the use of lower cost natural gas fuel can offer significant cost reductions," says Sr. Partner and General Manager of ACT Research Ken Vieth. "These fuel payback calculators are easy to use, and they can quickly tell you the price at the pump for a multitude of different scenarios, comparing diesel to natural gas for a spark, an HPDI, or a DNG dual fuel engine."
ACT Research also has published several white papers on the future of natural gas in heavy duty trucking, with a closer look at what information is needed to make informed decisions. More information is available on the website.