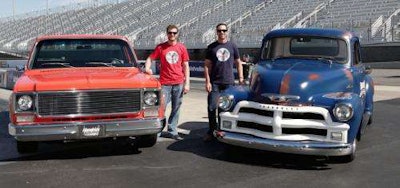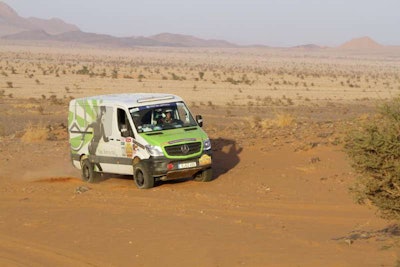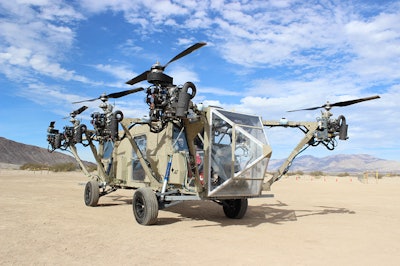 Looking for information on what's new and unusual in the wide world of hard-working trucks? The staff of Fun Trucks Friday is here to answer the call.
Dynamic Duo #1: Valvoline and Hendrick Motorsports recently unveiled two completely reinvented, redesigned classic Chevrolet trucks, the culmination of the brand's first-of-its kind Reinvention Project campaign.
After several weeks collaborating with the expert mechanics at Hendrick Performance, Sprint Cup Series drivers Dale Earnhardt Jr. and Jimmie Johnson inspected their finished trucks. The two then went head-to-head in a series of high-energy challenges from autocross to burnouts and even drag racing.
[youtube 2KGkMgGh6FM#t=28 nolink]
The teammates had secretly reinvented their own classic Chevrolet trucks with exacting specifications – from engine and oil, to body and paint, to wheels and suspension – and invited fans to take part by building their own truck in Valvoline's virtual garage.
In a nod to his birth year, Earnhardt Jr. selected a 1974 Chevrolet Cheyenne Super 10 pickup. The top-of-the-line truck came from an owner in Kansas with just 21,000 miles on the odometer. Its 350 V8 engine and 3-speed automatic transmission were upgraded to a Chevy LS3 V8 – a powerful motor – with 480 horsepower and 4-speed automatic transmission, respectively.
"This was so much fun to be a part of from start to finish," Earnhardt Jr. said. "It was really exciting to see the finished trucks and compare notes with Jimmie on the finer points of our builds. Thanks to Valvoline and the expert craftsmanship from Hendrick Performance, the trucks are incredible."
Johnson's 1955 Chevrolet truck is a true original, coming from its first and only owner in Georgia where it served as a trusty farm truck, equipped with a straight 6 cylinder, 3-speed manual transmission. The selection showcases Johnson's deep appreciation for the styling and lines of early 1950s trucks. Engine upgrades include a Chevy LS3 V8 with 480 horsepower and a rhino-lined engine compartment.
"I loved feeling the power jumping off the line during the drag race," Johnson said. "It's not often Dale and I get to combine our creativity and passion for cars together into one effort. I can't think of a better way to kick off our team's partnership with Valvoline."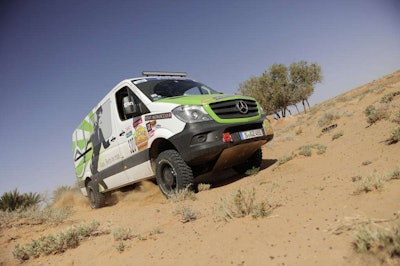 Dynamic Duo #2: In a triumph for the new all-wheel-drive Sprinter, Daimler employees Astrid Ebermann and Sabrina Trillmann came in first in the Rallye Aïcha des Gazelles in Morocco at the end of March.
The winning duo's Crossover category vehicle is a new Sprinter 316 CDI 4×4. Only women take part in this motorsports event, which has been held annually since 1990. More than 160 teams from around 30 countries took part in the rally this year.
Even though every rally begins at the foot of the Eiffel Tower in Paris, the actual race starts in the Moroccan desert, on the far side of the Atlas Mountains. The drivers have to travel more than 1,500 miles, most of which is over unpaved surfaces, through terrain in which all-wheel-drive vans such as the new Sprinter 4×4 can fully demonstrate their off-road capabilities.
The team from Mercedes-Benz Vans won the race in a series-produced vehicle that was only slightly modified for the rally: The Sprinter was fitted with special wheels and sand tires as well as with a rollover cage, underride protection, and bucket seats.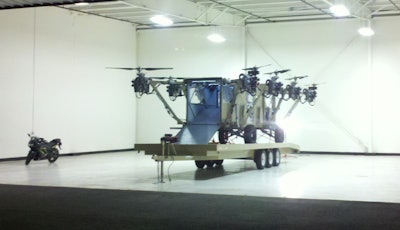 It's a truck, it's a plane: It's the Advanced Tactics Black Knight Transformer, billed as the world's first roadable vertical takeoff and landing vehicle. The multi-engine rotorcraft draws inspiration from small electric "multicopters" that have become so popular.
Unlike the little drones, the Black Knight is a full-scale aircraft with a significant payload and range capability. The vehicle also has a fully independent ground drivetrain that provides it with off-road driving capabilities so that it can reach any destination, whether a suitable landing zone is available or not, Advanced Tactics says.
Under development since 2010, the AT team has a 2,000-pound "Mini-Knight" prototype that flew June 2012. An operational concept version of this aircraft can carry modular cargo pods over short distances, the company says.
But if you want to have the baddest drone on the block, the Advanced Tactics' Panther UAV/UGV is now available for order.
[youtube 2iqcpT_MWCg nolink]