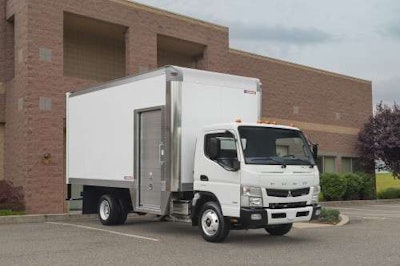 An abundant supply of medium-duty used trucks has kept prices down, while the construction truck market firmed up to close out 2013 and is poised for a recovery, according to NADA's February Commercial Truck Guidelines.
In Class 3-4, the used market for both cabover and conventional models remained flat.
"There are simply more than enough trucks with over 100,000 miles available in the marketplace to meet demand," says Chris Visser, NADA commercial vehicle sales analyst.
The price of four to seven year old Class 3-4 cabovers did tick upwards in December, coming in at $11,542, a 12.7 percent increase from November – but the uptick was due mainly to the notable decrease in mileage, the report says. Mileage was down versus the previous last month, at 113,957, for a14.1 percent decrease.
Four to seven year old Class 4 conventional truck prices dipped slightly, to $12,734, or 13.9 percent lower than November. Mileage came in at 101,620, down 5.5 percent.
Like the light cabover segment, there is no shortage of conventional Class 4 trucks with around 100,000 miles available in the marketplace. Even trucks in the 90,000-mile range have not moved upwards appreciably, the NADA report says.
Noting that this segment touches a number of different economic sectors – delivery, residential services, landscaping, and light construction, to name a few – the steady general improvement in economic conditions should be placing upward pressure on demand, NADA suggests. However, supply is an ongoing issue.
"Perhaps more importantly, the medium duty market is missing one critical ingredient that has kept the used truck market hot on the Class 8 side: high new truck prices," Visser says. "The difference between new and used is much smaller. As such, end users more confident in their job or business outlook are shopping in the new market. "
Class 6 conventional pricing has fared a bit better than their lighter counterparts in the past two months. December's average was $17,871, 5.3 percent higher than a relatively strong November, while mileage was flat at 162,037.
"Class 6 has seen a steady increase in average mileage of trucks sold since early 2012, suggesting that users are cycling out iron that had been kept in service longer than typical during the recession," Visser says.
Like Class 4 trucks, pricing has been kept in check through an adequate number of trade-ins. At the same time, two months of increased pricing for trucks with relatively high mileage is "mildly encouraging," the report adds.
Looking ahead, pricing for used medium-duty trucks with average mileage should remain flat, due to more than adequate returning supply.
The construction market finished 2013 on the uptick after a relatively weak September and October, with heavy-duty construction trucks show no depreciation for five to seven year old vehicles in 2013. 
The price average in December was $76,917, 4.6 percent higher than November. Mileage came in at 279,830, 13.5 percent higher.
"Construction trucks should firm up mildly, in step with steadily improving economic conditions," Visser says.