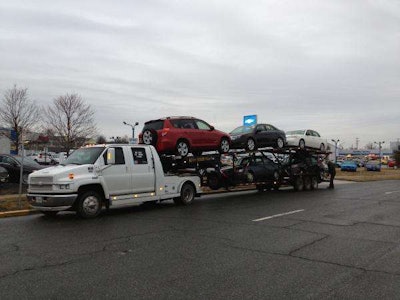 As with many segments, the vehicle transport market features a few very large carriers serving the big automakers, and a lot of small companies who have found success within a particular niche or geographic area.
But between the fallout from the recession and the emergence of electronic marketplaces, the industry is poised for a reset and there are plenty of opportunities to be had for those carriers willing to use technology to better manage their hard working truck fleets.
The U.S. auto industry collapse five years ago challenged the entire segment and, along with union troubles, brought down some of the leading players. Performance Transportation Services was liquidated, while several of the remaining large transport companies have recently consolidated.
Last September a federal bankruptcy court approved the sale of Allied Systems, the third largest car hauler, to Jack Cooper Transport, the largest, creating a 4,000 truck fleet when the deal gained anti-trust approval. Also at the end of 2013, United Road Services announced the purchase of the Auto Transport Division of Waggoners Trucking, nearly doubling United's capacity and making it the second largest auto carrier.
At the "50,000-foot level," vehicle shipping capacity is like most other freight sectors, with the number of haulers holding firm even as load volume recovers, explains Dean Xeros, vice president and general manager of uShip Motors. The key will be for the smaller operators to compete by adapting to the changing automotive environment, and understanding how to use new technology in the evolving marketplace will be critical.
"You've got the big getting bigger, that's to make sure they've got the capacity they need," says Xeros. "But at the end of the day, 70 percent or so of the capacity out there is still run by owner-operators – the guys with four trucks or less."
Indeed, many owner-operators benefitted from bargain basement buys as large carriers shed their equipment during the downturn, Xeros suggests.
And those owner-ops and small carriers are the ones uShip is looking "to aggregate" in its uShip Motors division as demand increases.
For uShip, it's important to work with "quality carriers," those owner-operators with the proper authority, good equipment, and insurance with appropriate limits.
"We really want the guys that run their business the right way," he says. "We want to make sure that carriers view us as the place not only with quality freight, but as the place to position them as a quality providers of service."
The current roster of uShip auto transporters features the full range of equipment, from the large 10-car trailers to slant-3s.
Traditionally, car haulers have developed relationships with dealers and with auction lots, and run familiar routes and semi-regular schedules. Otherwise, they look for third party leads.
"It's very difficult for an owner-operator to find John Q. Public trying to ship a car. Most of these guys don't have websites or toll free numbers. They really rely on brokers," he says. "Most of these guys run on a regional basis. Not many do long, national runs because if you're not familiar with an area it can be difficult to pick up backhaul freight."
But that model is changing, if uShip and competitors like CentralDispatch.com have anything to do with it.
The uShip platform is designed to take out that guesswork, collecting load opportunities and matching it to a carrier's self-selected profile in the system.
"You might think of carriers as being relatively old-school, but they're embracing technology," Xeros says. "Most now have some form of technology in their cabs. The more that we can allow technology to do the heavy lifting – whether it's sourcing freight, facilitating payment, providing tracking – the more we can remove that friction and allow them to grow their business."
And the online marketplace giant eBay is a "really attractive" opportunity for carriers because the shippers on the site are "very high intent," or ready for the service, Xeros explains.
Some of the latest numbers from eBay:
• In the third quarter last year, gross volume in the vehicles category was approximately $1.8 billion;
• A passenger vehicle sold every 2 minutes; and
• More than 76 percent of vehicles sold on eBay Motors represented interstate transactions, where vehicles were delivered to buyers outside of the state of the seller.
The wider net cast by eBay offers more shipping opportunities than other vehicle marketplaces, such as AutoTrader.com, Cars.com, which focus on local transcations, adds Xeros.
And as an "integrated partner"– meaning uShip is offered as a shipping option at the time of purchase – eBay currently provides about 20 percent of the company's vehicle transport volume. And that business is growing.
Being an eBay partner is "huge," he adds.
"You're front and center, and not buried in the site," Xeros says. "They view shipping as critical part of their success. Other than actual transactions, you get great exposure, great brand awareness."
Online sales and auctions certainly present opportunities for car haulers looking to fill empty spaces and backhauls, agrees Tom McGeehan Jr., executive president of T.J. McGeehan Sales and Service Ltd.
The Pennsylvania-based company doesn't do door-to-door transportation of personal vehicles or eBay purchases, but McGeehan recognizes the opportunity.
"I do feel there is tremendous growth potential for carriers that specialize in this niche business," he says. "Although the adoption rate has been slower for online vehicle purchases compared to other retail goods, I can't imagine the next generation of vehicle buyers still traveling to physical auction sites to source inventory."
Car dealers have embraced the Web as well.
According to the National Automotive Dealers Association, just 10 years ago car shoppers made an average of 4.5 visits to dealerships before making a purchase. Today, because of dealers' use of the Internet, they make only 1.3 visits before buying a vehicle.
And car buyers who want to buy over the Internet can still do so from dealers. But most want to shop online and then visit the dealership to take a test drive, trade-in a vehicle and finalize the transaction.
"That's what is great about the franchise dealer network: Car buyers have the choice of how to handle the transaction," a NADA spokesman tells HWT. "The Internet has also made buying a car one of the most transparent purchases we make. With the dealer's Web site and all of the other automakers and third party sites, there is more information about vehicles than ever before. Car shoppers are much more informed. They know what they want. They are empowered, and this speeds up the car-buying process."
For car haulers, this new style of shopping often means more dealer-to-dealer moves.
"Vehicle shipping is going to continue to be a very strong segment. Carriers are going to be covered up with opportunity," says Xeros. "Demand and capacity are on a collision course through 2015. It's going to be really interesting to see how this all plays out."
And, of course, uShip would like to be part of market equation.
"If we can make it easy for carriers and do it quickly and efficiently – the right freight at the right price – that's a big win for us," he says.