If it's Friday, it must be time for some not-quite Not Suitable For Work (NSFW) Internet time wasting. We're all about hard working trucks, all the time – so no need to feel guilty here. This week, let's build some trucks with the help of International and Nissan.
Show me yours: Navistar International Corp. has launched its new, re-designed online truck configurators for International ProStar, DuraStar and TerraStar models. The configurators allow customers to virtually design, build and customize their International Truck's cab, exterior, interior, powertrain and more.
The new configurators build on earlier versions of the tool with high-resolution, 3-D images, additional spec'ing options and an improved user experience and interface.
"We know that an increasing number of customers in the commercial truck industry are researching their product wants, needs and desires online before visiting a dealership," said Michael Cerilli, vice president, marketing, Navistar. "It's all about empowering the user to spec' their desired truck with the click of a mouse. The more we can provide useful tools to aid in their purchase process, the more likely we are to earn their business."
And it's so easy, even a journalist can do it.
To start, users select their cab type and bumper-to-back-of-cab (BBC) length followed by options for bumpers, mirrors, aerodynamic package and other exterior features. Next, a preferred powertrain configuration is selected, including engine, transmission and axle options. Finally, there's a prompt to select an interior trim and creature comforts of choice.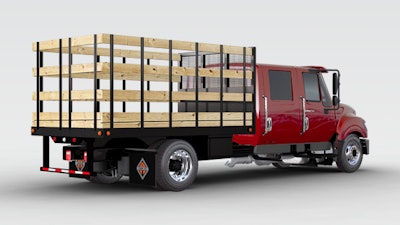 The image may be rotated 360 degrees for a full walk-around view.
When complete, users may request a pricing quote, schedule a test drive with their local dealer, share their spec'd truck with their local dealer or view new and used truck inventory meeting their specifications. Go to InternationalTrucks.com to give a configurator a spin.
Ask, and receive: As Nissan continues the development of its next-generation full-size Titan pickup, the automaker is gathering insight from the people who know trucks well – and it has tapped Titan as the next crowd-sourced project vehicle.
Nissan made the announcement during a special media event at the 2014 Shooting, Hunting and Outdoor Trade (SHOT) Show and Conference in Las Vegas this week.
Fueled by social media, Project Titan fans will build the ultimate off-road capable truck equipped with customized features designed to conquer extreme terrain. To help determine the adventure that Titan will tackle, Nissan is engaging shooting, hunting and outdoor journalists by asking them to submit their "ultimate outdoor adventure" via Twitter or video.
"Nissan is invested in designing the most innovative trucks ever. Projects like this allow us to gather input directly from industry leading media members and those companies that embrace an outdoor lifestyle in their work and play, helping us deliver trucks that buyers want to own," said Fred Diaz, senior vice president, Nissan Sales and Marketing, Parts and Service in the U.S.
Following the announcement, more than 2,500 journalists were invited to participate in the first phase of Project Titan by submitting a video or tweeting using #ProjectTitan to tell Nissan which ultimate adventure to select for Project Titan.
Whether four wheeling across the Baja, hunting big game in Alaska or fishing for steelhead in Idaho, the Project Titan will be modified to meet the most challenging conditions.
In the months to come, additional project phases will roll out and be communicated via the @NissanTrucks Twitter and Facebook page including production of the radically enhanced pickup.
A final phase will involve putting a veteran, who has been injured in the line of duty, behind the wheel of the Project Titan to embark on his or her own adventure. With that veteran will be an outdoor oriented journalist who will ride along during the journey.
Announced at Nissan 360 late last year, the next-generation Nissan Titan truck will be equipped with an optional Cummins 5.0L V8 Turbo Diesel engine.