(Photos: eBay Motors/Chicago Motor Cars)
So the FTF staff is on assignment, sitting by the hotel pool by the harbor in San Diego, when someone realizes we have no idea what we're going to do for Fun Trucks Friday this week.
And just at that moment, no kidding, we spot a truck easing along the waterfront unlike any we'd seen before. The first glance impression was that of a Hummer, because it was clearly a modern, military style vehicle dressed in city slicker duds.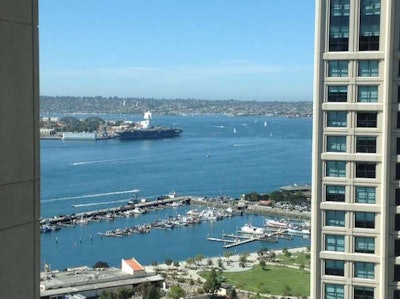 But then it turned our way and the grillwork was unmistakable: narrow, vertical chrome slats with an orange and black diamond emblem at the top, clearly marking a Navistar International.
Alas, with the bar tab still open, we could not grab a camera, jump up and pursue this truck with which we were not immediately familiar.
Then we forgot about it. And about coming up with an idea for FTF. But the truck demons work in mysterious ways.
On Thursday, pretending to work, we were engaged in a little diversion we call "Would you take that truck?" The concept is simple: Peruse eBay Motors until you come across a listing so plain, so uninteresting, so blah that you just shrug and realize you need to find another way to waste time. Of course, for truck lovers this game results in hours of lost productivity. Even ugly, rusted, front-yard rotted pieces of junk can have character, and possibilities, after all.
But what we do find listed this week? A 2008 International MXT, that's what, as shown in the slides above. A little research (we are journalists, after all) reminded us we'd seen one of International's Military eXTreme vehicles on the floor of the Chicago Auto Show once upon a time. Alas, early sales for the consumer line fell victim to the Great Recession, and there aren't that many out there in the wild, we suspect.
[youtube AaHw8jVi5qs nolink]
This eBay MXT, listed by Chicago Motor Cars, is powered by a VT365 6.0L V8 Turbo Diesel and has less than 6,000 miles. The $139,800 asking price gets some attention in a forum that includes quite a few trucks advertised as "basically complete, except for engine, transmission and passenger side door," but the price is within range of MSRP.
Bid away: The auction runs through Oct. 21, which is close to one FTF staffer's birthday if you want to get him something.
We're giving him a new FTF feature idea: Production trucks we'd never seen on the street before. We're thinking we need to head back to the beach to find another one.