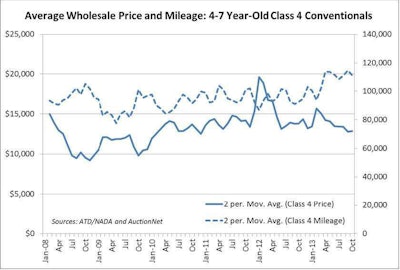 The medium-duty used truck market remains stable, with some signs of "relaxed demand," while the construction segment likewise has "taken a breather," according to NADA's December Commercial Truck Guidelines.
Sales of Class 6 conventionals dipped moderately in October, the report says, while Class 4 conventionals and Class 3-4 cabovers showed little movement.
For Class 6 conventionals, volume was similar to the previous month while mileage was in line with the year-to-date average. The average price for Class 6 trucks was $13,009; that's down $1,498 (or 10.3 percent) from September, with mileage of 186,810, up 9,716 (or 5.2 percent).
"With similar volume month-over-month, it is not likely that there was an increased supply of trucks," says Chris Visser, NADA commercial vehicle sales analyst. "Buyers were just not there in October."
Class 4 conventionals fared better, although the group saw little change in demand or supply. The average price was $13,060, $367 (or 2.8 percent) higher than September, with mileage of 113,900, an increase of 5,635 miles (4.9 percent).
Cabovers also were stable: The average price of $10,884 was up $316 (or 2.9 percent), with mileage of 129,151, an increase of 858 miles (0.7 percent).
More broadly, the supply of trucks with over 100,000 miles appears "more than enough" to meet demand, Visser notes. Exceptions are trucks "with heavy specs," such as light construction, and trucks with mileage under 100,000.
Class 8 Construction trucks of all model years sold in fewer numbers for October, while pricing decreased as well.
"We expect a seasonal pullback in construction truck purchases in the fourth quarter, and the month's result could reflect the start of that condition," Visser says. "We expect flat results into the first quarter of 2014, followed by a continuation of the recovery in pricing we saw earlier in 2013."