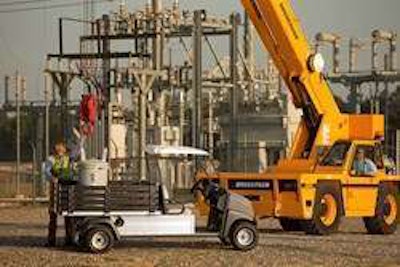 Renowned primarily for its golf carts, Club Car has launched a new line of Carryall utility and transport vehicles to help commercial and industrial customers transition from pickup trucks to gas, diesel or zero-emissions electric utility vehicles (UTVS).
The new vehicles will be available next month.
"We designed and engineered the new Carryall utility vehicle line based on customer feedback obtained through a global listening tour," says Ross Lyons, Carryall product manager. "As a result, they incorporate the improved power, versatility, reliability and fuel efficiency today's customers demand."
Lyons says the vehicles will retain the rustproof aluminum frame, rack-and-pinion steering and independent front suspension system from previous Carryall generations.
In addition to work utility vehicles, the Carryall line includes Transporter transport vehicles, which the company says can carry up to six passengers, as well as street-legal Carryall LSVs (low speed vehicles).
To bridge the gap between trucks and UTVs, Club Car partnered with Subaru, whose engineers adapted automotive technology to design a new engine for the Carryall utility vehicles.
[youtube WcDD9Vb-oM0 nolink]
The 14-hp-rated, 404-cc, single-cylinder overhead cam engine features electronic fuel injection (EFI), capacitive discharge ignition (CGI), hemispherical heads and a case-hardened steel timing chain that enhances reliability. A splash lubrication system that eliminates the need for oil filters simplifies maintenance and reduces environmental waste.
The new engines boost horsepower by 30 percent and fuel efficiency by as much as 50 percent over previous Carryall utility vehicle engines, Club Car says.
Most new electric Carryall utility vehicles will feature a combination of an on-board, high-frequency charger with an integrated cord retractor as standard equipment. The solid-state, global charger is 92-95 percent efficient, a 10 percent increase over the old charger, the company says.
The charger can be programmed for multiple algorithms, including lead acid or gel/AGM batteries.
"So if you change batteries, you won't have to buy new chargers," says Lyons.
And the plug can be plugged into any 110-volt outlet, or 240-volt outlet.
The aluminum bed box in the new vehicles was designed specifically for versatility and durability. Its rustproof aluminum side panels accommodate a configurable and removable track-based attachment system for carrying shovels, rakes, leaf blowers and other equipment.
The vehicles also accommodate a range of commercial options and accessories designed specifically for the Carryall utility vehicle line.
The optional cab, for example, is integrated into the vehicle's design. Its doors and windshield sit flush with the frame, keeping wind and rain out.
"The new Carryall utility vehicles raise the bar for utility and transport vehicles and offer our commercial, industrial and government customers a viable option over trucks and vans," says Lyons.