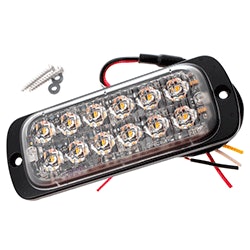 Superior Signals Inc. is now offering a line of Meteorlite SYFLAT12 surface mount LED light modules.
The thin lights operate on 12 to 24 volts, come in five different colors, offer up to 25 flash patterns and can be linked to additional lights to utilize synchronization features.
SYFLAT12 lights come with a five-year warranty and certifications for ECE R10, SAE Class I, and CA Title 13 (amber only).