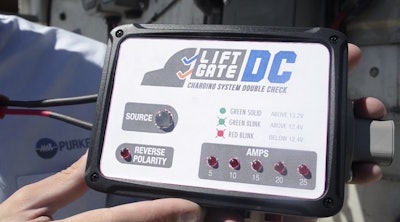 Purkeys announced that it's launched a new tool designed to easily test liftgate charging systems.
The Liftgate Double Check, which fits dual pole, single pole, or 7-way connections, will analyze a liftgate system by simulating charging loads.
"This tool makes it easy to test the liftgate charging system on a wide variety of vehicles," said Rylar Masco, Purkeys' national OEM representative.
"The Liftgate Double Check gives you an easy way to connect and diagnose any issues with a liftgate charging system. It also gives fleets a way to ensure that there is no issue with the trailer or tractor."
The Liftgate Double Check comes with an LED light display that will tell you when you are connected to a good power source. The device will show how many amps the batteries are pulling, which is important for determining if the system will start and operate properly.
There is a breaker at the top of the device for safety, and there are two inputs for multimeter leads at the bottom.
The Liftgate Double Check is designed to provide a quick and easy way to simulate the loads of a lift gate charging system. When using the appropriate connectors, the truck and its connecting circuits can be tested to make sure they are working properly and capable of supporting a liftgate charging system, even if a trailer is not available.
"It will tell you simply and easily if everything is working properly," Masco said.
Purkeys, based in Lowell, Arkansas, focuses on providing electrical solutions for the heavy-duty trucking industry.