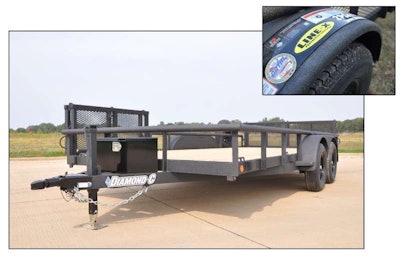 LINE-X announced a new manufacturing partnership with the premier trailer manufacturer, Diamond C Trailers.
Based in Mt. Pleasant, Texas, Diamond C is now offering customers the option to have a LINE-X protective coating applied to nearly all of their utility, car hauler, equipment, tilt bed and dump trailers. LINE-X may also be applied to specific trailer components like tool boxes and fenders.
LINE-X coatings, which are being offered with or in lieu of a painted finish, offer protection against the elements, abrasions, impacts and corrosion. LINE-X spray-on coatings are designed to create an impenetrable barrier between a trailer's surface and nature's harshest elements such as high humidity, saltwater and extreme temperatures.
LINE-X coating applied to the trailer utilizes a two-component, spray-in-place, 100 percent solids, elastomer polyurea. There are no solvents associated with LINE-X products, which means there are no air pollutants or harmful environmental contaminates.
"We are extremely proud to announce our partnership with Diamond C Trailers and are confident their customers will embrace LINE-X's renowned protective properties and ability to extend the life of their trailers," said Dennis Weese, president of LINE-X. "With LINE-X having been tried and tested under harsh environment conditions, extreme impact and even blast testing with military applications, it's absolutely true that the overall value and durability of Diamond C trailers are now on another level."
LINE-X cures in seconds, which means it can be sprayed vertically and even overhead without running or dripping and is resistant to most solvents and acids.
"With Diamond C known throughout the industry as one of the top manufacturers of premium trailers, it makes perfect sense to partner with LINE-X to add even more value and longevity to our products," said Jeffrey Crabb, president of Diamond C Trailers. "We pride ourselves on the strength and durability of our trailers and now with LINE-X, we can offer legendary protection. Our motto is 'See the difference' and we believe customers who choose to coat their trailer with LINE-X will not only see the resilience of the product elevate, but LINE-X's incredibly durable finish really takes the look and aesthetics of the trailers to new levels."
Diamond C Trailers will be exhibiting at the 2016 North American Trailer Dealers Association Trade Show and Convention at the Music City Center in Nashville, Tenn., September 8-10. They will be in Booth# 928 and LINE-X representatives will be on hand in to discuss and demonstrate the significant impact LINE-X has on the life of trailers.