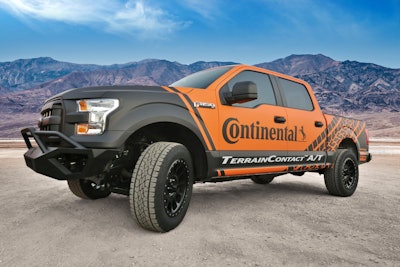 Continental Tire has entered the all-terrain segment with the new TerrainContact A/T.
The newest addition to the Continental Tire lineup is designed for light trucks, CUVs and SUVs.
"This tire is the perfect balance of on and off-road performance for light truck and SUV owners," said Travis Roffler, director of marketing for Continental Tire. "While this is a new segment for Continental Tire, we are confident that the hours and miles we've invested in testing this tire will pay off.
"Whether dry, wet, pavement, dirt, gravel, or grass, we believe consumers will be extremely happy with the off-road durability and traction while also experiencing a quiet, comfortable ride on-road."
The TerrainContact A/T marks the debut of TractionPlus Technology. Off-road, TractionPlus provides traction and durability via an open pattern and large stable blocks. On-road, TractionPlus Technology provides the hallmarks that Continental fans have come to expect.
"The patented, +Silane, provides excellent wet traction and drivers can expect a quiet, comfortable ride through noise blockers and pattern shifting," a Continental representative reports.
In addition to TractionPlus Technology, the TerrainContact A/T provides all-season traction. Traction Grooves provide gripping teeth inside the groove that lock snow for improved snow grip while full-depth sipes aid in snow and ice traction, all while providing the comfort and traction needed in wet and dry conditions the rest of the year.
Even road surface contact provided by a flat contour shape, and strong tread shoulders, boost the tires tread life.
Continental's entry into the all-terrain set was three years in the making that included over 100 hours of computer simulation; 1,500 tested tires; 12,000-plus hours of machine testing; and over 1 million miles of machine testing. After the simulation was done, Continental tested the TerrainContact A/T for over 2 million combined miles on and off-road.
Backed by one of the strongest warranty programs and service contracts in the industry, the TerrainContact A/T is included under Continental Tires Total Confidence Plan. Under the plan this all-terrain tire has a 60-day customer satisfaction trial and road hazard coverage (12 months or first 2/32-inch) as well as a 72 month manufacturer's limited warranty program. Also included is a 60,000-mile limited mileage warranty and three-year flat tire roadside assistance.
The TerrainContact A/T comes in 20 metric sizes (12/32-inch tread depth) ranging from 16-inch to 22-inch wheel diameters with a 245-285 width and 45-75 series. Additionally, there will be 15 LT metric sizes (16/32-inch tread depth) ranging from 16-inch to 20-inch wheel diameter with a 235-315 width and 60-80 series.