Icon Vehicle Dynamics is now offering its S2 Secondary Shock System for the 2016-up Toyota Tacoma.
The addition of a secondary 2.5 Series or Omega Bypass shock effectively doubles the damping ability of the vehicle's front suspension, Icon reports.
"As opposed to overly complicated and expensive long travel kits, the ICON S2 System is an affordable bolt-on upgrade that drastically increases off-road performance, is easy to install, and has a modular design that allows 2016-up Toyota Tacoma owners to upgrade in steps or all at once," a representative with Icon explained.
The S2 Secondary Shock System utilizes the factory lower control arms and maintains OE track width while a combination of a billet aluminum shock tower adapters, fabricated shock hoops, and steel skid plates (with incorporated shock mounts) make for a straightforward install.
The system was designed to eliminate the need for any major alteration of the vehicle's frame or any other factory suspension components, and the components are 100 percent removable in case the system is to be installed on another vehicle.
Similar to ICON S2 systems for the 2005-2015 Tacoma, the modular design of the 2016-up Tacoma S2 kit allows for standalone installation of the skid plates. This provides the added benefit of protecting the factory lower control arms from potential trail damage.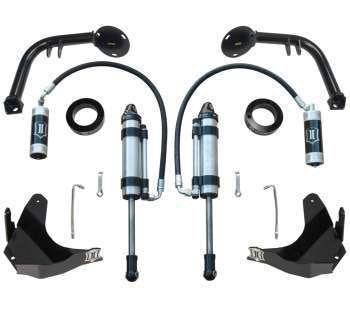 Multiple secondary shock options including 2.5 Series Remote Reservoir shocks, 2.5 Series CDC Valve shocks and 2.5 Omega Series Bypasses mean the S2 upgrade can add unique levels of performance and adjustability to an existing Icon suspension system.
"These secondary shocks not only double the damping ability of the vehicle's front suspension, but the remote reservoir shock configuration and increased oil volume allow for the vehicle to be used harder for longer durations of time without experiencing any shock fade that could lead to degraded performance," a representative with Icon explained.
Each secondary option has been designed specifically for the S2 application, eliminating the need for any shock tuning outside of the built-in CDC or bypass adjustments.
Icon products are made in the U.S. at its Southern California based facility.
KEY FEATURES
Drastically improves vehicle damping ability off-road
Increased vehicle stability on-road
Utilizes factory lower control arms
Maintains OE track width
Vehicle-specific tuned secondary shocks provide increased damping and oil volume
CDC Valve technology allows for quick and easy compression damping adjustment
Omega Series two-tube bypass allows for compression and rebound damping adjustment
Shocks are fully rebuildable and revalveable
Bolt-on design makes for straightforward install
Made in the U.S.
 TECH INFO
The Icon Vehicle Dynamics S2 Secondary Shock upgrades are stand-alone kits and are not to be used in conjunction with any other aftermarket kits.
Welding required (lower shock tab & steering stop).
Does not work with TRD Big Brake Kit.
 WHEEL & TIRE FITMENT INFO:
OEM Wheels & Tires: Yes
Aftermarket Wheels: 8-8.5-inch wide, 4.75-inch backspace
Aftermarket Tires: 33-inch x 11.25-inch
(Larger Tires May Fit but Fender Trimming and Modifications will be Required)