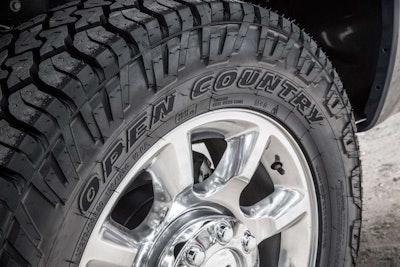 Toyo Tire U.S.A. Corp. has added a new commercial grade tire designed to fit half to 1-ton pickups.
The Open Country C/T, an on-/off-road tire, features all-terrain commercial grade durability, plus a Three-Peak Mountain Snowflake which qualifies it for severe snow conditions. Developed for balanced on- and off-road work, its tread design and construction deliver long tread life and traction in gravel, mud, and snow.
Contrary to its aggressive appearance, the Open Country C/T also provides a quiet, comfortable highway ride, Toyo says.
Durable, 3-ply construction and all-weather traction make this tire ideal for year round service on work and ranch trucks yet its refined road manners and ride comfort also make it an excellent choice for recreational weekend use such as hauling or towing.
The tread compound contains high levels of natural rubber and was specifically designed for rough roads and no roads.  It helps resist cutting, chipping, and stone drilling while remaining flexible in lower temperatures.
The tread design also adds to the durability of the Open Country C/T. Features include dual-angle shoulder blocks improve traction in snow, mud, and rutted roads.  The tread is also pinned to accept TSMI #15 studs to aid in ice traction.
The Open Country C/T size line-up includes 16 popular OE replacement and flotation sizes ranging from 16- to 20-inches in wheel diameter and load ranges D and E.