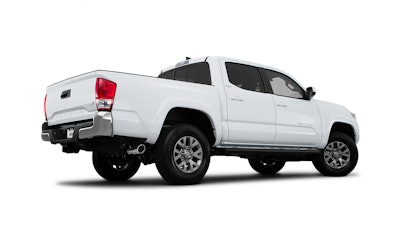 Borla Performance Industries has rolled out a new Cat-Back exhaust system for the 2016 Toyota Tacoma.
As with all Borla products, the 2.5-inch diameter system has been engineered specifically for the Tacoma's 3.5-liter V6 DOHC engine.
"During the course of its in-house development, the Borla R&D department worked tirelessly to deliver the ultimate performance exhaust system," a Borla representative said. "It provides increased performance, distinctive sound and is guaranteed drone-free."
The exhaust system is designed for the 2016 Tacoma with an automatic transmission in both two- and four-wheel drive. It is intended for the Crew Cab model with the short cargo bed. However, an optional adapter is available for the Double Cab 2016 Tacoma with long cargo bed and longer 140.6-inch wheelbase in either two- or four-wheel drive variants.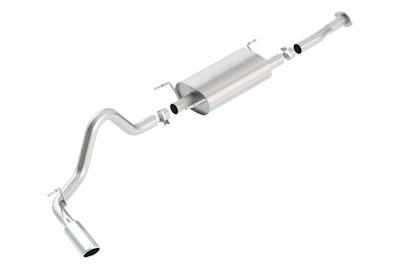 The patented S-Type muffler technology is manufactured from T-304 stainless steel and comes with Borla's million mile warranty.
The exhaust system is supplied with a single 4-inch round tailpipe, which features a rolled, angle-cut tip. The tip exits from the side of the truck, behind the passenger-side rear wheel.
The S-Type muffler features patented straight-through, multi-core technology. Borla reports that increased gas velocity adds additional power and driving excitement, while improving fuel economy, and ensuring the distinctive Borla sound of power "without annoying the neighborhood."