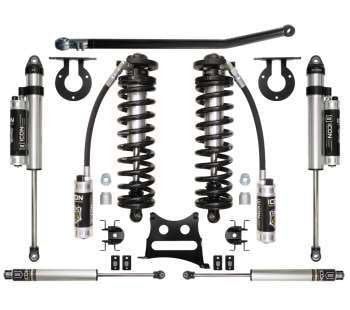 Icon Vehicle Dynamics has introduced a line of coilover conversion systems for 2005-up Ford Super Duty trucks.
Icon has several coilover conversion systems already available for these trucks, however they require the installation of a fabricated shock hoop to mount the shock. While these systems bring a high level of strength and performance to the table, the latest ICON coilover conversion systems are designed to utilize the OE coil bucket for a simplified install and factory-like fit.
The Icon Vehicle Dynamics 2005-up Ford Super Duty 2.5 to 3-inch Coilover Conversion System is a performance-oriented, height adjustable leveling kit that is designed to bring a new level of performance to the F-250 and F-350 chassis. This system is available in five stages that are intended for different driving styles and uses.
The introductory Stage 1 system includes vehicle-specific Icon 2.0 Aluminum Series shocks designed for street, towing, and light off-road use.
Stage 5 includes components such as 2.5 Series remote reservoir shocks, CDC (Compression Damping Control) Valve technology, and adjustable track bars, making for an upgrade to the on and off-road handling of the Super Duty platform. Each stage provides an adjustable 2.5-3 inches of lift height, which will accommodate wheel and tire combinations up to 35 inches.
Designed to provide a height-adjustable option to the popular Icon Vehicle Dynamics 4.5-inch Ford Super Duty Suspension Systems, these coilover conversions are designed to provide on-road ride quality and off-road performance while at the same time allowing for end-user ride height adjustability.
These systems are also available in several stages that have been organized to provide levels of performance and features tailored for unique driving styles and intended vehicle uses.
Stage 1 components are intended for daily driving, towing, and occasional off-road use and include everything necessary for a complete install.
ICON components and technology include 2.5 Series shocks, CDC Valve compression adjustment, dual steering stabilizer kits, and ICON's Super Duty 4-Link kit. While the introductory systems are engineered to improve ride quality and function, the higher stages represent the very best Icon has to offer for the ultimate in off-road drivability.
4-5.5-inch COILOVER CONVERSION SYSTEM APPLICATIONS:
2011-UP F-250/F-350 | K63131-K63135
2008-2010 F-250/F-350 | K63121-K63125
2005-2007 F-250/F-350 | K63111-K63115
Icon products are all proudly made in the U.S. at our Southern California based facility by a dedicated team of off-road enthusiasts. With a reputation for quality, performance, and service it's clear that Icon Vehicle Dynamics is the top choice for performance suspension systems and shock absorbers for the 2005-up Ford Super Duty F-250/F-350.