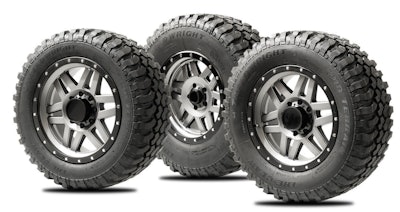 TreadWright Tires today announced the launch of its new Claw II MT Series of mud terrain tires.
The new series combines TreadWright's eco-friendly manufacturing process with a specially designed mud-terrain tread pattern that's designed to deliver enhanced performance on challenging 4×4 off-road terrain.
TreadWright reports that its Claw II is the company's premiere off-road mud terrain tire. Its tread pattern has enhanced traction features designed to handle extreme mud, gravel, and snow driving conditions and is backed by TreadWright's 2-year workmanship warranty.
"This is our most aggressive and rugged mud terrain tire yet," said Anthony Showen, CEO of TreadWright. "Our new Claw II series delivers great performance and value and we're also proud of the Claw II's environmentally friendly manufacturing process, which may be the greenest in the U.S.
"The Claw II and all our family of tires are perfect for outdoorsmen, hunters, fishermen, 4×4 enthusiasts, hikers, bikers and boaters."
TreadWright reports that its narrow lug design gives the Claw II more surface area and helps prevent excessive road noise when driving on the highway.
All TreadWright tires are produced in the U.S. with 70 percent recycled content, including premium brand tire structures.
TreadWright reports that full-grade truck rubber is used for all tread designs in a European manufacturing process called remolding, the same mold cure process used as traditional branded/OE tire manufacturers.
As a result, the Claw II series tires, according to TreadWright, get the same mileage as most premium OE LT/SUV tires on the market.
"Each environmentally friendly Claw II MT series tire is produced using 65% less oil than standard tires as well as less energy consumed in the manufacturing process, helping to preserve the nation's lakes, rivers, and wild terrain these tires were designed for while passing the savings onto the consumer with lower prices," a TreadWright representative states.
TreadWright Claw II MT tires are available now in 33" and 35" widths with 18" and 20" rim sizes. Prices start at only $204.99. Learn more at https://www.treadwright.com/collections/mt-tires.