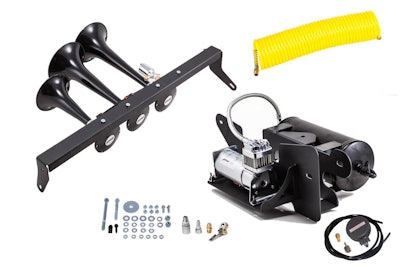 The Kleinn OnBoard Air system is now available for the 2015-2016 Ford F-150 SuperCrew.
The system includes the Beast Model 230 Train Horn and a heavy-duty 150 psi compressor and 1.5-gallon air tank.
The system provides air pressure for the train horns and can support air bags, air lockers, air tools as well as fill tires and other inflatables.
Each kit comes complete with everything needed for a bolt-on installation, including a quick connect tire inflator with 30-foot hose and storage bag.
The 100-percent duty-cycle compressor will fill tires up to 35 inches tall. The kits require no drilling, cutting or welding and install with simple hand tools.
Kleinn Bolt-On vehicle specific OnBoard Air systems are available for many late model full-size pickups with and without train horns. Please note that the system is not compatible with vehicles that feature powered side steps.