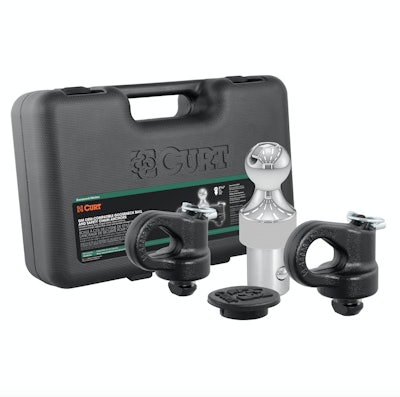 Curt Manufacturing recently launched a new OEM-compatible gooseneck ball and safety chain anchor for Chevrolet, GMC and Nissan Titan XD trucks.
The OEM-compatible gooseneck ball and safety chain anchors are designed to easily drop into the truck bed puck system for towing a gooseneck trailer.
The patented ball features a quarter-turn latch-locking system and a gross trailer weight capacity of 30,000 lbs. The anchors are also designed for fast, simple installation with no tools required.
Designed for Nissan Titan XD and GM pickup trucks with the towing prep package, CURT's OEM-compatible gooseneck products can be purchased in a complete kit. This package includes the ball, anchors, a rubber ball hole cover and a durable storage case. The ball and anchors can also be purchased individually.