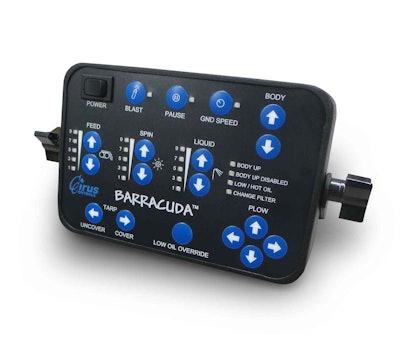 The new Barracuda integrated plow and spreader control system from Cirus Controls features membrane-switch touch controls that allow winter maintenance operators to control both the proportional direction and speed of hydraulic plow, spreader, tarp and dump applications.
The compact unit, which was engineered to fit in tighter truck cabs, is designed to be easy to install and to provide cost-effective controls for a central hydraulics system on any size truck.
Cirus Controls kept snowplow truck upfitters in mind when designing the Barracuda system.
"Rapid up-fit of a snowplow truck depends heavily on the labor time it takes to move a truck in and out of the shop," says Paul Mortell, CEO and founder of Cirus Controls. "Since the Barracuda system is faster to install, it saves upfitters time and money."
The Barracuda electronic control system updates the industry idea that a joystick is the only device capable of controlling the proportional direction and speed of snowplow truck implements.
"We intentionally designed the Barracuda system to incorporate switches using our membrane-touch technology," says Mortell, "And by relying on membrane switches, we were able to integrate six independent controls for plowing and spreading applications in one small, durable package."
Cirus Controls developed the Barracuda integrated control system in response to requests from snow and ice removal operators and managers. Operators were looking for a product to control both plow and spreader applications. Managers also saw the utility of having multiple snowplow controls in one package but wanted a more cost-effective version.
In addition to giving an operator the ability to control both plow and spreader applications, the Barracuda system warns the operator of low or hot oil in the truck's central hydraulics system. Auto shutdown circuits for low oil and dump body limit are also available.