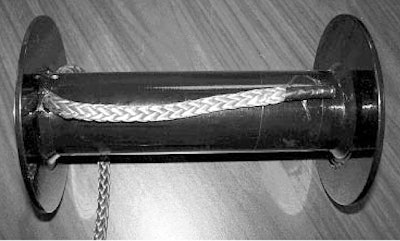 Talon 12.5SR provides more than six tons of self-recovery pulling power at the touch of a button
Winches to a lot of people are just an expensive, seldom-used accessory to display on the front of their vehicles because they adds a flare of machismo to their ride.
But for those who work in the outdoors, a heavy duty winch is a practical, must-have tool that saves time and money.
Winch selection has a lot to do with personal taste, need and budget; the heavier the truck or the greater the likelihood of getting stuck, the better and bigger the winch.
A good rule-of-thumb in winch selection is to buy one that has double the pulling power of the curb weight of the vehicle it's going on.
Another factor to consider is the weight of the winch package because that's what loads the front suspension. The lighter the better – if the weight savings does't come from weaker internal components.
Put heavy pulling power (12,500 lbs.) and light weight (68 lbs.) together and one electric winch that shines bright is the Superwinch Talon 12.5SR.
The Talon's SR, which uses synthetic rope instead of cable, is one of the industry's best pickup winches on the market.
The 6hp motor is sealed and the VS4 control solenoid will keep out water, mud, snow, and dust and has a patented venting feature that allows the contacts to resist water and release condensation that can damage contacts.
This winch also uses a heavy-duty two-stage planetary and two-stage spur gearbox instead of the triple-gears found in winches of lighter design.
From a safety standpoint, the Talon's "Dual-stop" -holding brake design provides zero drag on cable in and is located inside the gearbox away from the drum to eliminate heat transfer to the AmSteel-Blue synthetic winch line.
Another item hard working truck owners will like is the Talon 12.5SR winch is covered by a Limited Lifetime Warranty, which includes an industry-first three-year warranty on all electrical components.
Superwinch doesn't make winch mounts. So we went to Go Industries, which builds heavy-duty winch mounting systems when we mounted the Talon on a 2011 GMC Sierra 1500 4×4 Crew Cab.
The grille guard and winch mounting plate are thick steel and protected from rust and abrasions with a black-matte powder-coat finish. As you can see from the photos int the gallery above, the installation is quick and easy.