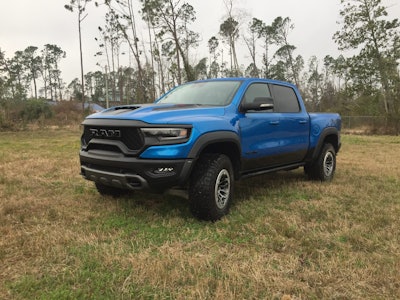 This is the first part in a two-part review on the 2021 Ram 1500 TRX. Read the second report here.
I knew I was in for a treat when the guy delivering the 2021 Ram 1500 TRX from North Carolina told me he had people along the way trying to race him.
I told him he was in truck country and he quickly nodded. A rare bird like this in Panama City, Fla., really anywhere, will attract attention.
The 702-hp apex truck that dominates all other factory builds just started rolling out earlier this month. And like so many others across the U.S., our local Ram dealer doesn't have one. That may change soon, but for now his top of the line Ram 1500 is a 2021 Limited Crew Cab 4×4 priced at $69,600. He's got a 2021 2500 Laramie Mega Cab 4×4 going for $80,810.
Neither of those trucks come close to the lighting fast TRX, the amazing suspension (this thing laughs at speed bumps) or the price.
With an MSRP of $92,000, this easily has the biggest price tag of any factory-produced truck I've driven yet. The most expensive ride I reviewed was actually the million-dollar-plus all-electric Workhorse prototype W-15 pickup which has since gone on to become the Lordstown Endurance. That day nearly four years ago in Long Beach, Calif. at the Advanced Clean Transportation Expo was a cool moment in truck history. This was another one of those days when the world's quickest OEM-manufactured pickup showed up at my door.
This truck is clearly in a class by itself. It's a new breed of off-road/street super truck that's pushing the extremes of engineering to provide amazing performance. And so far it's not disappointing. In part one of my review, I'll provide some first impressions.
The dive, the walk around and the roar
After taking possession of the truck, Dad and I had to take a closer look. A retired engineer who helped get Apollo 11 off the ground, Dad remains interested in closely studying any trucks that come my way—this one in particular. It wasn't long before both us were down on the ground and under this beefy truck and with 11.8 inches of ground clearance, it's easy to scooch underneath and take a look.
One of the first things you notice under the truck in the rear are those beefy five-link coils paired up with 2.5-inch Bilstein Black Hawk e2 adaptive performance shocks which are exclusive to the Ram TRX. (The same Black Hawks are in the front as well). That big price tag starts to make more sense when you take a closer look like this and think about how this truck was engineered from the ground up to be unlike any other Ram and most pickups on the market. I say most because it's no secret that aftermarket companies can work wonders. But straight out of a factory, nothing can equal the TRX. That may change when Ford reveals their new Raptor next week, but for now Ram is king.
Big 15-inch disc brakes behind 35-inch Goodyear Wrangler Territory All-Terrain tires (another TRX exclusive) inspire confidence and from a few days of driving this week I can say that all 6,396 pounds of this truck stops quickly and comfortably.
In the front, large upper and lower control arms are an attention getter. These forged aluminum muscles look ready for serious battle. Dad was seriously impressed with the casting. (Hey, he's an engineer.)
The factory-coated, 5'6-inch bed has a full-size spare mounted on the bed floor just behind the cab. A slow release tailgate drops down smoothly by remote but the labs aren't feeling up to the 36-inch jump.
A walk around the TRX reveals narrow, stationary running boards. While they do provide a nice leg up into the cab, because of their narrow width I have to hunt for good toe placement to ensure that my 200-lb. self doesn't crash and burn. The extra 8 inches of width this truck has over conventional Ram pickups may have led to the narrow running boards. Whatever the case, the family and I disapprove.
However, all of us are fans of the hydro-blue pearl exterior and black trim. The more I look at it, the better it gets especially with those 35-inch Goodyear tires wheels and 18- x 9-inch beadlock aluminum wheels. The whole truck stands out nicely without being too pretentious and that's including the TRX badging.
Make no mistake, you will stand out. It's not so much the badging, but the truck's broad, hulking stance, big wheels, a prominent hood scoop and distinct growl from dual exhaust pipes that will get you noticed. And hats off to Ram's exhaust folks. Some supercharged trucks (they're all bolt-on aftermarket jobs at this point) can sound a little too obnoxious and even prove too loud in the cab and in the neighborhood. That's not the case with the TRX. It's got good manners when cruising by the neighbors, and when it's ready to throw down, it'll roar and let everyone know who's boss. And life is definitely different behind those pipes. You don't hear it so much in the cab or just outside of it. But stand behind that rear bumper and it's interesting to hear how that growl emanates almost rifle-like away from the truck and onto the guy behind you. Great work.
Though the all-electric W-15 had more torque than the TRX and delivered impressive acceleration, life in a supercharged truck is more exciting at this point. Chalk it up to the roar of a supercharged V8. If you've ever watched Don Garlits' electric dragster take off then you know what I'm talking about. I like and respect all-electric power and realize that the technology is quickly improving, but if forced to make a choice, I'd opt for more of the roar.
Under the hood, you can't help but admire the 6.2-liter supercharged HEMI V8. The HEMI orange valve covers are a nice touch and recalls Mopar's legacy race engines, namely the 426 HEMI.
First day surprises
I don't think I can ever tire of getting into the TRX. First, it's the smell of leather. Second, the information and technology you can access and control through that 12-inch touchscreen is mesmerizing and bound to keep the attention of most ardent technophiles. For instance, just press the TRX button close to the steering column and watch the screen transform into a high-tech performance data center.
If so desired, the truck's Uconnect 4C Nav screen will display your stats and save it. The truck is currently showing an amazing zero to 60 mph time of 3.9 seconds. That wasn't me. I haven't had a chance to use Launch control yet. But there that time is and, what's more interesting, is that Ram's website shows a zero to 60 time of 4.5 seconds. MotorTrend, which crowned the 2021 TRX as its Truck of the Year, reported that the TRX "is the quickest pickup truck we've ever tested. It accelerates from zero to 60 mph in just 4.1 seconds and races on through the quarter-mile in 12.7 seconds at 106.3 mph."
So I'll just accept the 3.9-second time as a mark of good fortune though the bragging rights are not mine.
On to the Easter eggs. While I've known about the TRX Easter egg surprise under the hood—the image of a T-Rex eating a raptor—I hadn't seen the image of T-Rex chasing a tiny velociraptor at the bottom of the center storage console which evokes another smile. Hey, why not have some fun while working your butt off to build a truck like this? And now that Ram's thrown down the dino gauntlet, there's no telling what Ford may have in store.
Life in the back seat is a step up from the $80K 2019 3500 Limited I reviewed. Pull a handle under the seat and feel it move forward into a comfortable recline mode. And unlike that 3500 Limited, the seats here are heated and ventilated. Pull down the middle back seat and you'll find two more drink holders plus a storage cubby.
Lift up the rubber floor mat and you'll find deep, removable storage bins on either side of the floor. I like how those bins are hidden under the mat.
When it came to backing up the truck, I discovered a jolting surprise. If the tailgate's down, the truck's not going far. It'll move just a foot or two before automated braking kicks in and brings it to a fast stop. To override it, I turned off the rear radar. You don't have to fish through the screen to find it. It's a conveniently located button just below the 12-inch screen. Disabling rear radar will come in handy when hauling longer items like a dirt bike, lumber or pipe with the tailgate down.
Another nice surprise has been the truck's confident road manners. It doesn't feel like an oversized ½-ton lumbering down the road. It absorbs potholes that would seriously rattle other vehicles and handles tight turns with unusual finesse. It really behaves more like a luxury SUV or at least aspires to be one. It's a strong nod to the truck's discerning, adaptive suspension.
The final surprise came through our first jump. Dad and my oldest son made a short course for the truck on the property. Last night I launched the truck off a small jump. I didn't catch a lot of air on the first run. We've got to smooth out the ascent some but it was still impressive, the landing especially so. It was so smooth. No cell phones or loose change flying. My 15-year-old son's reaction? "Do it again!" And though it wasn't exactly an Apollo 11 launch, Dad was smiling.
Part II will focus more on the TRX's off-road capabilities along with its g-force launching power on the street.