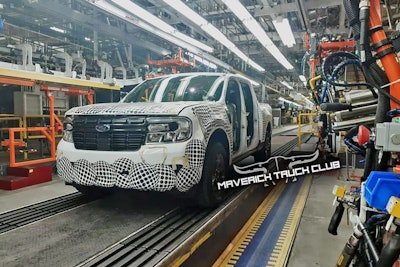 For those longing for the return of the compact pickup, Ford's got you covered with its 2022 Maverick.
Personally, I can't help but smile anytime I see an old compact truck on the road. It's not that I'm just nostalgic for most things 80s (disclaimer: I learned to drive in a four-speed '84 Toyota pickup), it reminds me of the importance of variety in the marketplace especially at a time when pickups are so popular.
But let's face it. Not everyone wants a hulking truck that's a pain to park and puts a serious dent in their pocketbook. I'll never forget the fleet manager I met from Hawaii at The Work Truck Show a few years back who was impressed with a Ranger on display at Knapheide's booth for two reasons: it would cost less than a full-size truck and it would be easier to drive and park on the island's smaller parking lots and along their narrower roads. Makes good sense.
Our big family managed quite nicely with our '84 Toyota. Dad threw a nice shell on the back and made God knows how many trips to the hardware store and elsewhere hauling stuff and kids (another disclaimer: this was before any seat belt laws).
The demand for a lower priced, smaller pickup is there especially after Nissan jacked up the price on its midsize Frontier from a starting MSRP of $19,290 for model year 2019 to $26,790 for model year 2020. Built on a unibody frame, the Maverick has a serious shot at winning over more fleet buyers and consumers who are leaning towards a crossover and the Honda Ridgeline, a midsize pickup with the only other unibody on the market.
Though Ford's remained quiet on the compact truck, the folks at mavericktruckclub.com have done a great job at keeping up with photos and details as they emerge. (Special thanks to MTC for allowing us to share the photo above.) Their site reports that the Maverick shares a platform with the Bronco Sport, Escape and Focus which in turn suggests front- and all-wheel drive variants.
Given Ford's push to go electric, it's tempting to think that Maverick—like its name suggests—might just break away from a traditional internal combustion line-up and offer hybrid and all-electric options.
Ford currently offers a hybrid powertrain in its F-150 and will eventually be rolling out an all-electric F-150. A picture posted at Maverick Truck Club shows some beefy rails running below the doors of the truck that just might help to support a battery pack. I reached out to Ford but at this point they're not ready to talk.
While electric and hybrid powertrain options would prove attractive in an increasingly emissions and mpg sensitive market (Ford CEO Jim Farley has been a big proponent of electrification), the price would tick up as well. So on that note, I'm hoping that Ford will offer at least one internal combustion variant for guys like my dad who want to avoid going broke while tackling DIY projects around the house.
Imagine the heads that would turn if Ford offers an IC, electric and hybrid Maverick. An astute Maverick forum member points out a pocket in the back of a Maverick truck bed that recalls the 110/220-volt plug-in panel found in the hybrid F-150. Can't rule it out—at least not yet.